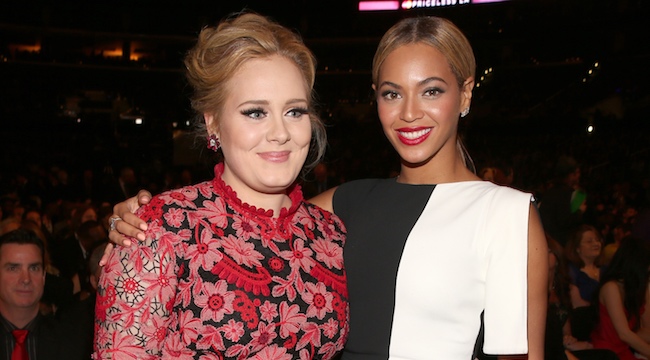 Eminem's Revival is out today, and he managed to pack the album's tracklist with a ton of star power, including Ed Sheeran, Pink, Alicia Keys, and of course, Beyonce. The latter might seem like the biggest get of the album, but apparently, she wasn't even the first choice to sing the hook on "Walk On Water."
In a recent interview with ThisIs50, producer Denaun Porter, who worked on Revival and is better known as Mr. Porter, said (around the 2:30 mark in the video) that it was actually Adele who Eminem initially wanted to collaborate with on the hip-hop ballad. However, she was unable to do it because of an issue with her voice:
"The first person I heard [who was wanted for the song] was Adele. I think something happened with her with her voice, and she couldn't do it. […] But then it got to them using Beyonce. My mind was already there. There's only a couple people that could pull that off."
Eminem stopped promoting the track as a single after its lukewarm reception, and while Beyonce couldn't save the song from being a flop, who knows if an Adele version would have fared any better.
Listen to the interview below, and read our review of Revival here.