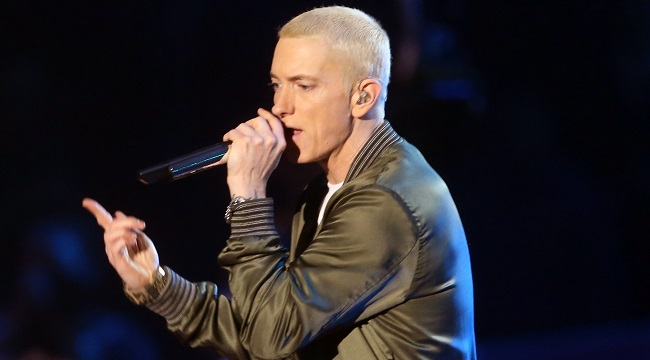 Eminem may have experienced mixed reviews from his Revival album, but a lot of that backlash is based on how accomplished his career had been to the point of his December release. He has long been one of the highest selling acts in hip-hop, with a massive fanbase that even other top-tier rappers can only dream about. Today, Eminem was congratulated for his achievements by the RIAA.
They shouted him out for selling over 100 million songs. The number is 107.5 to be exact, and is ever-growing as more youth get acclimated to his catalog and stream their favorite songs from Revival and his "Chloraseptic" remix with 2 Chainz and Phresher. He will be on numerous festival bills this year, including New York's Governors Ball and Delaware's Firefly Festival.
That 100 million mark was reached with the help of three diamond songs. He first hit the 10 million sales mark with the triumphant "Not Afraid," which was one of the major songs that marked his comeback from substance abuse. His "Love The Way You Lie" collaboration with Rihanna also eclipsed the mark, as did the classic "Lose Yourself." When it comes to total song sales, not many people in any genre are able to touch Eminem.