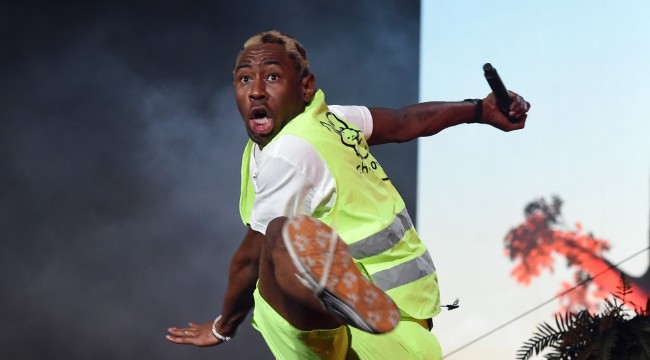 With Kamikaze fever in full swing, fans have spent the better part of the last twelve hours delving into the densely-packed lyrics of Eminem's latest — but not everyone is happy with what they've unearthed. On one song, in particular, Em returns to an old bad habit that doesn't fly as freely in 2018 — namely, using a homophobic slur in regards to another popular rapper who once found himself in hot water for doing the same, Tyler The Creator.
On the song "Fall," Eminem directly references a time when Tyler called himself the homophobic slur "f*ggot," an affection the younger rapper has since left by the wayside after finally coming out on his last album, Flower Boy. While Tyler and his Odd Future cohorts didn't haven't much problem slinging the offensive term around early on in their careers, they've since grown up a bit. That hasn't stopped Eminem from revisiting their past with his own troublesome display of wordplay on Kamikaze.
"Tyler create nothing, I see why you called yourself a f*ggot, b*tch," he snaps on "Fall." "It's not just 'cause you lack attention / It's 'cause you worship D12's balls, you're sack-religious." Aside from that awful pun, it's clear Em hasn't taken too kindly to some of Tyler's critiques of his previous work nor siding with Em's former Dirty Dozen clique after he fell out with them — which is ironic, as members of D12 have also dissed Tyler with homophobic rhymes. Meanwhile, Justin Vernon of Bon Iver, who are sampled on the song, has distanced himself from the lyrics, saying he wasn't in the studio when it was recorded and has asked Em to change the song. The word "f*ggot" itself is muted, but unmistakable.
While Tyler long counted Eminem as one of his biggest inspirations, it seems their paths have diverged, and now, fans are also split about their allegiances and reactions to Eminem's jousting. While some have been defending Em, many seem pretty upset that he still feels like he can punch down in an era when the human rights of marginalized groups are literally being chipped away by government policies. Check out some of the responses below, and feel free to weigh in.