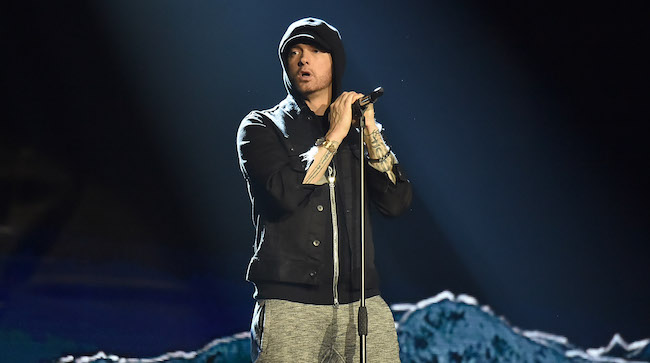 Eminem is just days away from a new album, and while the reaction to Revival and his new music has been lukewarm, it's still a major event in music. Em is a massive star, and generally when massive stars release music, a tour follows, and even though he doesn't have to go on the road, it has been expected for some time. Now, we have confirmation that he will hit the road in 2018 from as great a source as can be: his agent.
Pollstar caught up with music super-agent Cara Lewis to discuss a few of her clients and she quietly announced that Em will be back performing next year. "Eminem will be touring next year on select dates, his first US performances since 2014," she said in the brief interview. In 2014, Eminem did six dates at three stadiums with Rihanna on what was dubbed The Monster Tour, a massively successful run that grossed over $36 million. It's not clear if "select dates" means a similar set up as the Monster Tour, or if Eminem is going to launch himself into a multi-date tour across the country, but what's apparent is he will be performing in some capacity next year.
Lewis also dished out some news on a few of her other clients, noting that Grammy-nominee Khalid "has announced The Roxy Tour, which will bring him to large theaters and sheds starting in May" and "Travis Scott will be headlining arenas in 2018." After revealing that Chance The Rapper has a few international shows on the way in Chile, Brazil and Argentina, she dropped one last surprising nugget: the always outspoken and controversial Russ is going to be headlining in arenas soon.
"Russ will play large theaters and arenas in 2018," Lewes added. She mentioned that this was a result of "selling out 9,500 tickets at Red Rocks in Colorado this October," and his successful solo tour. The news may come as quite the surprise for those who know Russ for his pointed opinions about drug use and hip-hop, but apparently, the young MC is quite the star.