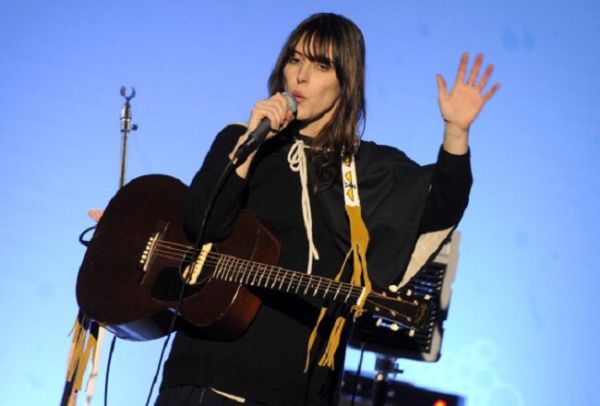 If you're familiar with Feist, who is celebrating her 40th birthday today, you likely got to know her from the song "1234." Back in 2007, the Canadian singer-songwriter had a huge hit seemingly from out of nowhere, as the track from her album The Reminder reached No. 8 on the Billboard Hot 100 charts. It was unavoidable, which no one seemed to mind, because it's a great song.
However, "1234" is not Feist's only song. In fact, Ms. Leslie Feist has had an entire career to her name, including her great work with Broken Social Scene. In honor of her birthday, here are Feist's five best songs that aren't "1234."
"I Feel It All"
Here's some real talk, but positive, cheerful real talk. "1234" is a great song, but it isn't even the best song on The Reminder. That would be "I Feel It All," which, at its highs, is just as wonderfully sweet pop as anything in "1234." What "I Feel It All" has, though, is more depth of sound, and also a great, endlessly charming music video. If you've only heard "1234" and want more Feist, this is where you should go next.
"Mushaboom"
Mushaboom is a funny word, and also the name of a small community in Nova Scotia. That makes sense, when you listen to the song's lyrics. "Mushaboom" takes a moment to get going, but by the time we hear the chorus for the first time, the song kicks it up a notch while still remaining incredibly ornate. This is the first Feist song that really got her any traction, and with good cause.
"My Moon My Man"
This song is nicely propulsive, and it has a great chorus, which honestly makes this song. It also ends with what sounds like Feist running off somewhere, which is a nice, interesting little touch. "My Moon My Man" is a fun journey and the type of song that Feist has spent years perfecting.
"Let It Die"
"Let it Die" is a quiet little ballad of a song. While people may thing "1234" and poppiness when it comes to Feist, this is actually what a lot of her music sounds like. A lot of her tracks are carried on the quality of her voice, and here, the vocals are the real focal point.
"How My Heart Behaves"
Another piano ballad, but one that is a bit bigger and more complicated. Eventually, the strings come in, and Feist's voice rises, and it's all very pretty. "How My Heart Behaves" serves as an incredible reminder of Feist's ear for arrangement in addition to her serene yet soaring vocals.
Of these five songs, you will find three from Feist's excellent The Reminder, the 2007 album that includes "1234." Two come from Let it Die, her 2004 album. What you will notice, perhaps, is that none of the songs are off Metals, her 2011 album that was her follow up to The Reminder. It has a very different sound than much of The Reminder, you won't find Feist trying to recreate the success of "1234." Metals was also the last album that Feist has released, nigh five years ago.
Aside from sparse live performances, she hasn't released much in the way of new music. She did write a song for one of the Twilight movies, but that's about it. Feist still has a great voice and incredible talent for songwriter. Hearing something new from her — and not having to see a Twilight movie to do it — would be all we can hope for.
And, for the curious, here's some of her work with Broken Social Scene, and also her appearance on Stephen Colbert's Christmas special.