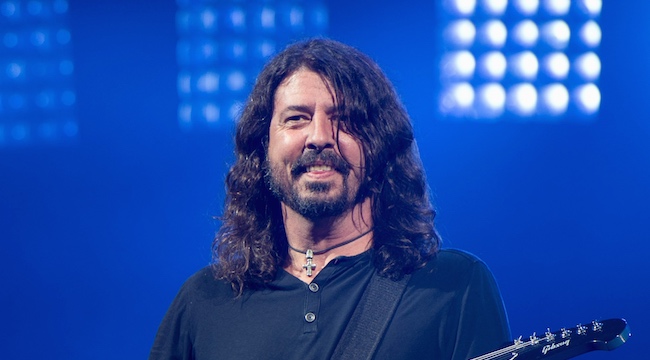 Dave Grohl previously said that Concrete And Gold, Foo Fighters' upcoming ninth studio album, is like "Motorhead's version of Sgt. Pepper," and while that's a lofty standard to put on a record, it seems like the album was definitely recorded outside of the band's comfort zone. In a recent interview with BBC 6 Music, as NME notes, Grohl revealed that Shawn Stockman of legendary R&B group Boyz II Men sings on "the heaviest song on the entire record."
When asked what the weirdest moment of recording Concrete And Gold was, Grohl answered:
"The guy from Boyz II Men walking through the parking lot and me saying, 'Would you sing on our record?' And he does, on the heaviest song on the entire record. It sounds like Sabbath and Pink Floyd. It's heavy. It's the last song on the record. He built a choir; it's like 40 vocals stacked. It's insane."
It makes sense, then, that the band thinks Concrete And Gold is the oddest album they've ever made. Elsewhere in the conversation, Grohl says the record "is the record that I've been more excited for people to hear than any other record we've ever made." Then drummer Taylor Hawkins interjected and added:
"Every time we start a record, Dave goes, 'We need to get weird on this record.' Then we always kinda pull back a little and go, 'Let's just make a good rock n' roll record.' This is the weird record. Josh Homme — our good mate from Queens Of The Stone Age — he said, 'You guys made a weird record,' and he was stoked about it."
While the album as a whole may be "weird," lead single "Run" is more of a relatively straightforward and energetic rocker, so revisit the song here.