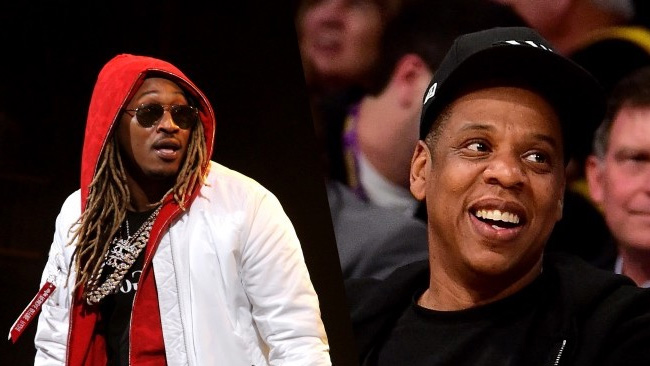 Future's opinions on Jay Z and the mogul's Reasonable Doubt classic debut album may have earned him a couple of haters and probably some fans. During an unlikely barbershop rap debate with LeBron James, Kevin Durant, radio personality Ebro Durden and industry veteran Steve Stout, the EVOL hitmaker said Tupac and Biggie's death allowed Jay to be "great."
"Jay Z wasn't great when Tupac and Biggie was alive," Future argued in the clip posted by Steve Stoute. "It was Biggie, Tupac, Ice Cube. [Reasonable Doubt] wasn't hot until [Tupac and Biggie] died." Now before you join me in leaving thousands of diamond emojis in his Instagram comment section, the 33-year-old rapper softened his stance by acknowledging Reasonable Doubt as an appreciated "classic" and "flames" today, but it was a different story in 1996.
https://www.instagram.com/p/BN-Lu6jBgor/?taken-by=stevestoute
"I'm saying at that time, [it wasn't hot]. They always go back for your classic album. When Nas dropped his first album, it was great then, Future continued. "When 'I Ruled The World' came out, it was the best then. You have to go back and listen to Reasonable Doubt and [think] this the best sh*t ever." To be fair, Jay himself took note of this on "Hard Knock Life," rapping, "I gave you prophecy on my first joint, and y'all lamed out/Didn't really appreciate it 'til the second one came out."
Future did give Jay his props for lasting as long as he's lasting in this fickle rap game, though. When the conversation shifted towards time periods and whether time factors into the Top 5 DOA debate, Future noted Hov's longevity, laughing off, "[Jay Z] been in every generation. Hov been great with Rakim."
And that's why he's No. 1. End of debate. Bye!