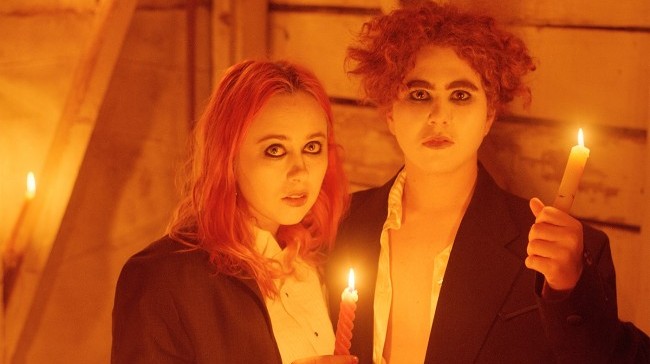 To celebrate the beginning of a brand new tour that will take them across the continental United States for the entire month of February, Girlpool have returned with a brand new song called "Picturesong." The new standalone single features contributions on backing vocals, keyboards, guitars, and mixing from Blood Orange's Dev Hynes, and takes on a more electronic feel than the duo perfected on Powerplant, their milestone sophomore full-length that was one of our favorite rock albums of 2017. Clocking in at just over three minutes, slow track builds to a noisy climax, accented beautifully by the incomparable vocal harmonies of Harmony Tividad and Cleo Tucker.
"Picturesong is a word invented to explore what we create in each other when we want to feel deep love because of loneliness or otherwise, and brings into question the reality and delusion of the things we feel," the band wrote in a statement. Hynes added: "I'm such a fan of Girlpool, and loved working with them. Their harmonies are some of my favorites that are out there." Check out "Picturesong" below.
"Picturesong" is out now via Anti- Records. Check out Girlpool's February tour dates below.
2/07 Washington, DC @ Black Cat *
2/08 Brooklyn, NY @ Brooklyn Steel *
2/09 Boston, MA @ Paradise Rock Club *
2/10 Philadelphia, PA @ First Unitarian Church #
2/20 Los Angeles, CA @ The Echoplex %
2/21 San Francisco, CA @ Great American Music Hall ^
2/22 Arcata, CA @ Outer Space ^
2/23 Portland, OR @ Wonder Ballroom %
2/24 Seattle, WA @ The Vera Project %
* = w/ Land of Talk (solo), Forth Wanderers
# = w/ Land of Talk (solo), Palberta
% = w/ The Hotelier, Special Explosion
^ = w/ Special Explosion