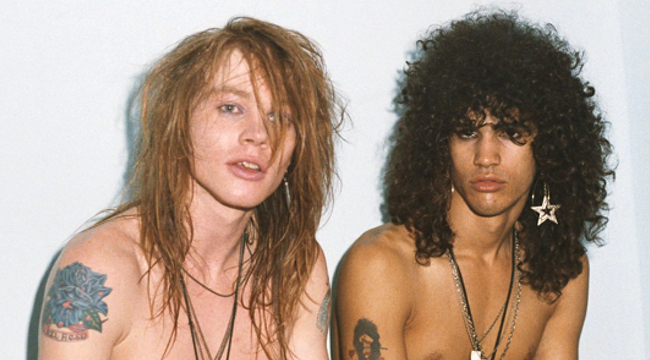 Is Guns N' Roses getting back together? Who knows, man.
First, Scott Weiland is chirping about how they are, although that came after Slash, an actual member of the band, issued a denial in May. However, Slash and Axl have mended broken fences and are actually talking to each other again. Then there was the report from Dish Nation pn Wednesday that the band was slated to get the gang back together for a couple of shows in Portugal. Oh, and a friend of Guns' bassist Duff McKagan's wife celebrated that the band was reuniting while showing off some nipple pasties.
So, is Guns N' Roses getting back together?
I stick by my original answer: Who knows, man.
Yet there are some things I do know about Guns N' Roses that you might not, or at the very least may have forgotten because the sight of Axl Rose rocking corn rows is the stuff of nightmares.
The Name "Guns N' Roses" Came Together Like Peanut Butter And Jelly
The band's name was the result of being comprised of members of two L.A. bands: Hollywood Rose (singer Axl Rose and rhythm guitarist Izzy Stradlin) and L.A. Guns (lead guitarist Tracii Guns, bassist Ole Beich, and drummer Rob Gardner). It didn't take long for the L.A. Guns members of the band to leave, either by choice or by being forced out by Rose. Duff McKagan replaced Beich, Slash replaced Guns, and Steven Adler replaced Gardner.
At Least They Didn't Choose Some Of The Other Options For A Band Name
The other names considered were Heads of Amazon and AIDS. Yes, AIDS, which is surprising. Who would have thought of Axl Rose having questionable taste?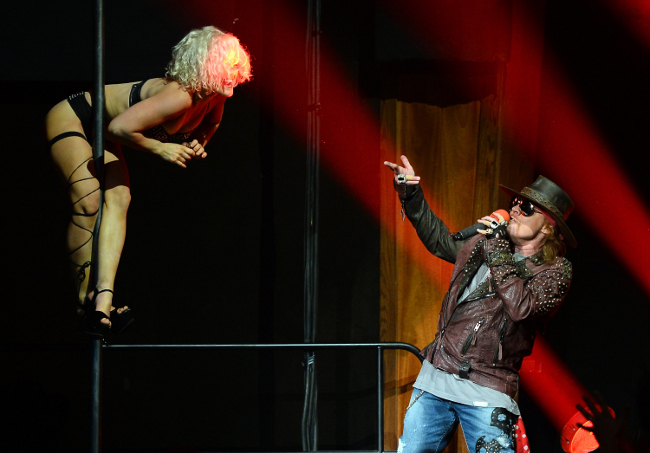 Doing It In The Name Of Science!
Before joining up with the dudes in L.A. Guns, Rose and Stradlin made money by smoking cigarettes for a study conducted by UCLA (according to the biography Appetite for Destruction: The Days of Guns N' Roses), thus joining the ranks of what we can only imagine are thousands of struggling musicians who looked to make a quick buck by copping to their vices in the name of science.
Five Minutes. Really?
Have you ever done something in five minutes that became a massive cultural mile marker? Yeah, probably not. And there's no shame in that, so don't feel bad. But do take a moment to acknowledge that "Sweet Child O' Mine," arguably the band's biggest and most popular song, was reportedly written in five minutes. Five minutes. Granted, the band was probably hammered at the time, so what they consider five minutes is more likely at least an hour in a sober version of the passage of time. Popularity be damned, though: Slash considers it the band's worst song. Take it from McKagan:
The thing about 'Sweet Child O' Mine,' it was written in five minutes. It was one of those songs, only three chords. You know that guitar lick Slash does at the beginning? It was kinda like a joke because we thought, 'What is this song? It's gonna be nothing, it'll be filler on the record.' And except that vocal-wise, it's very sweet and sincere, Slash was just messing around when he first wrote that lick.
Ten Years, Huh? Sounds About Right.
One of the band's other gigantic hits, "November Rain," was released in 1991, included on Use Your Illusion I. Rose allegedly started working on it years earlier, though. About a decade earlier, to be exact. In an interview, Tracii Guns talked about Rose working on the song in the early '80s.
"When we were doing that EP for L.A. Guns, like '83? He was playing 'November Rain' — and it was called 'November Rain' — you know, on piano. The guitar solo is amazing. Way back then. It was the only thing he knew how to play, but it was his. He'd go, 'Someday this song is gonna be really cool.' And I'd go, 'It's cool now.' 'But it's not done, you know,' he used to say. And, like, anytime we'd be at a hotel or anywhere, there'd be a piano; he'd just kinda play that music. And I'd go, 'When are you gonna finish that already,' you know? And he'd go, 'I don't know what to do with it.'"
Apparently, Rose took the recording of the song very seriously, as he instructed everyone to leave him alone in the studio with just a bucket to go to the bathroom in until he finished the vocals. Eight days later, they returned to Axl asleep, covered in his own waste and empty pizza boxes.
According to Slash, there is an 18-minute version of the song out there somewhere.
Yeah, But How Much Did That Church Cost To Rent?
The video for "November Rain" reportedly cost roughly $1.5 million, all of which came from the band. About $8,000 of that went to the custom-made coffin that was used by model Stephanie Seymour, who was Rose's lady friend at the time.
More Like Appetite For Religious Education
As a young pup growing up in Indiana, Axl Rose was not only a choir boy, but a Sunday school teacher. My Sunday school teacher was Mrs. Barnaby. I can't be certain, but I'm pretty sure she was in no way affiliated with Guns N' Roses.
Dave? Dave? Dave? Never Mind.
Izzy Stradlin quit Guns N' Roses in November 1991, while the band was deep in throes of their massive Use Your Illusion tour. Before settling on Gilby Clarke, the band approached Dave Navarro of Jane's Addiction. Navarro wasn't in any shape to join, though, years later saying that "back in those days, I was simply too intoxicated to show up to anything." I guess that answered the "would you consider yourself reliable" question in the interview.
That Was One Expensive Disappointment
As you probably know, Guns N' Roses returned in 2008 with Chinese Democracy after a 17-year hiatus from original music, with Axl the only original member left in the band. Due to a number of issues, the album was infinitely delayed, and many assumed it would never come out. The album was finally released after a number of false starts, and flopped commercially. Though it was certified platinum in the U.S., as of 2011, it had only sold 614,000 copies. That hurts even more when you consider that at $13 million in production costs, Chinese Democracy was the most expensive rock album ever made.
No Sympathy For The Band
The final song Axl and Slash recorded together? It wasn't on one of the Use Your Illusions, or The Spaghetti Incident?. It was actually a cover of Rolling Stones' "Sympathy for the Devil," which appeared on the Interview with a Vampire soundtrack and was separately released as a single. The recording of the song led to Slash quitting the band in 1996, with McKagan and then-drummer Matt Sorum following in short order. That marked the beginning of the band's constantly shuffling lineups and lengthy disappearance.
And now we wait and wonder, are Guns N' Roses getting back together?
Again, who knows, man. In the meantime, catch up on our three-part documentary about the band.