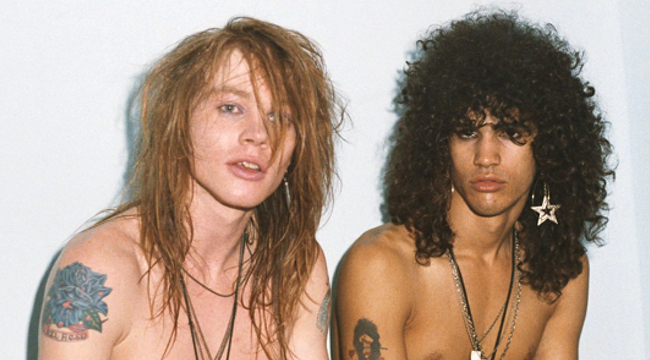 Is Guns N' Roses getting back together? Who knows, man.
First, Scott Weiland is chirping about how they are, although that came after Slash, an actual member of the band, issued a denial in May. However, Slash and Axl have mended broken fences and are actually talking to each other again. Then there was the report from Dish Nation pn Wednesday that the band was slated to get the gang back together for a couple of shows in Portugal. Oh, and a friend of Guns' bassist Duff McKagan's wife celebrated that the band was reuniting while showing off some nipple pasties.
So, is Guns N' Roses getting back together?
I stick by my original answer: Who knows, man.
Yet there are some things I do know about Guns N' Roses that you might not, or at the very least may have forgotten because the sight of Axl Rose rocking corn rows is the stuff of nightmares.
The Name "Guns N' Roses" Came Together Like Peanut Butter And Jelly
The band's name was the result of being comprised of members of two L.A. bands: Hollywood Rose (singer Axl Rose and rhythm guitarist Izzy Stradlin) and L.A. Guns (lead guitarist Tracii Guns, bassist Ole Beich, and drummer Rob Gardner). It didn't take long for the L.A. Guns members of the band to leave, either by choice or by being forced out by Rose. Duff McKagan replaced Beich, Slash replaced Guns, and Steven Adler replaced Gardner.
At Least They Didn't Choose Some Of The Other Options For A Band Name
The other names considered were Heads of Amazon and AIDS. Yes, AIDS, which is surprising. Who would have thought of Axl Rose having questionable taste?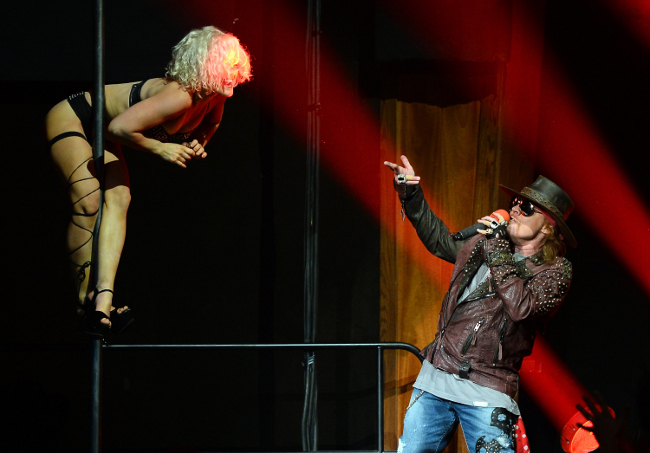 Doing It In The Name Of Science!
Before joining up with the dudes in L.A. Guns, Rose and Stradlin made money by smoking cigarettes for a study conducted by UCLA (according to the biography Appetite for Destruction: The Days of Guns N' Roses), thus joining the ranks of what we can only imagine are thousands of struggling musicians who looked to make a quick buck by copping to their vices in the name of science.
Five Minutes. Really?
Have you ever done something in five minutes that became a massive cultural mile marker? Yeah, probably not. And there's no shame in that, so don't feel bad. But do take a moment to acknowledge that "Sweet Child O' Mine," arguably the band's biggest and most popular song, was reportedly written in five minutes. Five minutes. Granted, the band was probably hammered at the time, so what they consider five minutes is more likely at least an hour in a sober version of the passage of time. Popularity be damned, though: Slash considers it the band's worst song. Take it from McKagan:
The thing about 'Sweet Child O' Mine,' it was written in five minutes. It was one of those songs, only three chords. You know that guitar lick Slash does at the beginning? It was kinda like a joke because we thought, 'What is this song? It's gonna be nothing, it'll be filler on the record.' And except that vocal-wise, it's very sweet and sincere, Slash was just messing around when he first wrote that lick.
Ten Years, Huh? Sounds About Right.