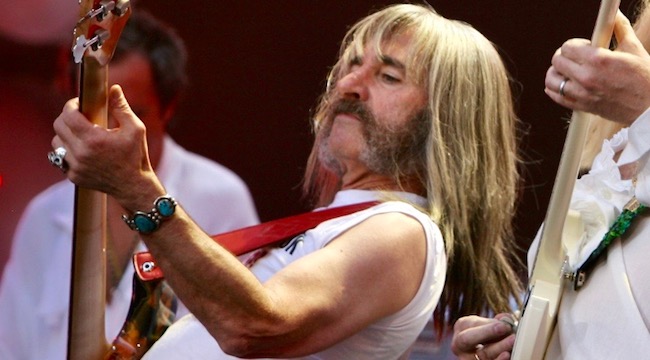 For many, the 1980s classic mockumentary Spinal Tap remains the perfect crystallization of all that is gloriously and hilariously excessive about the business and reality of rock and roll. One of the things that the comedy failed to really touch on however is what remains a classic trope within the music industry today: The self-indugent solo album. One of the fictional group's members Harry Shearer aka Derek Smalls, looks to remedy that oversight in 2018 however with the release of a new, perfectly titled album Smalls Change (Meditations Upon Ageing).
While the idea behind the record is comedic in spirt, the list of heavy hitters Shearer has pulled together to help him flesh out the music is no joke, including the likes of David Crosby, Donald Fagen, Peter Frampton, Taylor Hawkins, Chad Smith, Rick Wakeman, Dweezil Zappa, and a pair of the fastest guitarist on Planet Earth, Joe Satriana and Steve Vai. As reported by Rolling Stone, when asked how he managed to rope in so many big names, Smalls simply stated, "Pity f*ck."
Smalls Change (Meditations Upon Ageing) is set to drop on April 13th. You can check out the full, absurd tracklist below.
1. "Openture" (featuring the Hungarian Studio Orchestra)
2. "Rock 'n' Roll Transplant" (featuring Steve Lukather, Jim Keltner and Chad Smith)
3. "Butt Call" (featuring Phil X, Taylor Hawkins)
4. "Smalls Change" (featuring the Hungarian Studio Orchestra, Judith Owen, Danny Kortchmar and Russ Kunkel)
5. "Memo To Willie" (featuring Donald Fagen, Jeff "Skunk" Baxter, Larry Carlton and the Snarky Puppy Horns)
6. "It Don't Get Old" (featuring Peter Frampton and Waddy Wachtel)
7. "Complete Faith" (featuring the Hungarian Studio Orchestra)
8. "Faith No More" (featuring the Hungarian Studio Orchestra and Todd Sucherman)
9. "Gimme Some (More) Money" (featuring Paul Shaffer, Waddy Wachtel and David Crosby)
10. "MRI" (featuring Derek with Dweezil Zappa)
11. "Hell Toupee" (featuring the Hungarian Studio Orchestra)
12. "Gummin the Gash" (featuring Steve Vai, Gregg Bisonnette and Jane Lynch)
13. "She Puts the Bitch in Obituary" (featuring Richard Thompson and Jane Lynch)
14."When Men Did Rock" (featuring Michael League, Joe Satriani, Rick Wakeman and the Hungarian Studio Orchestra)