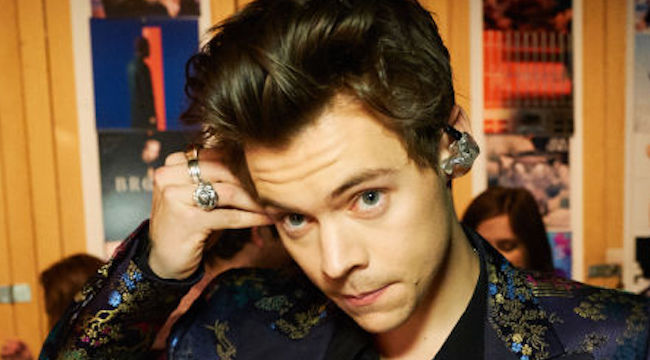 After Monday night's horrific terrorist attack on Manchester Arena killed 22 and left even more injured, people from around the globe are sending their love to the U.K. But the ungodly tragedy affected those from the area especially. Harry Styles, who grew up miles from Manchester and played at the venue many times with One Direction, is one of them. On Tuesday night, he altered his whole concert in Mexico City to be respectful of the victims.
"When I booked this show, I wanted to celebrate with you guys," Styles told the crowd. "I've played some of my favorite shows in Mexico, and it felt right to come and celebrate with you, but tonight doesn't feel like a night to celebrate. Last night, there was a tragedy in my hometown of Manchester, and I have been left with a hole in my heart."
Instead of doing a full electric set, Styles chose instead to go acoustic — something more somber — to play through the songs on his recently released solo debut. But before beginning anything, he continued his speech.
"I went to my first show in the arena, and I've had some of the best experiences of my life playing in Manchester," Styles said. "We have a choice, every single day that we wake up, of what we can put into the world, and I ask you to please choose love every single day."
Styles then led the audience through a moment of silence for the victims of the bombing before thanking fans and moving on.
Like Styles, Miley Cyrus had a hard time performing on Tuesday night, as well, when she appeared on The Voice. "I'd like to dedicate this song to my good friend Ariana Grande and everyone who experienced that horrific attack yesterday," Cyrus said before launching into "Malibu." "Our hearts are with you."
U2, who appeared on Jimmy Kimmel Live! last night, also dedicated a song to Manchester, playing a surprise performance of "Still Haven't Found What I'm Looking For."
Numerous acts have canceled their shows in the U.K. in the aftermath of the attack. Blondie and Take That have postponed those dates, while Shawn Mendes and Celine Dion are planning to keep their shows as scheduled. Grande has reportedly canceled the rest of her tour.