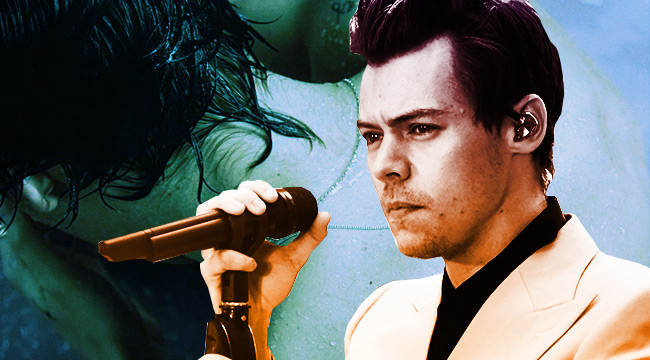 Imagine you're a 23-year-old multi-millionaire who is desired by legions of women and men from around the world. You've just decamped to Jamaica to record your first solo album. The world is at your disposal. Clearly, this is the time to go big and bold. You are among a small handful of musicians with the means to make the most wondrous, ridiculous, awe-inspiring, and thoroughly excessive music possible. The question is: What do you do with all of that potential?
If you're Harry Styles, the talented and charismatic frontman of the most successful pop-rock band of the decade, One Direction, the answer is … frustratingly little. Styles' self-titled debut leans heavily on winsome, richly atmospheric ballads that, with one grand exception (the very good single "Sign Of The Times"), never really seem to go anywhere. Favoring lightly strummed acoustic guitars, dreamy vocals, and soft-rock melodies, Styles curiously has pooled his considerable resources as a young and sexy pop star in the prime of his career to make music best suited for the staid confines of adult contemporary radio. He's a larger-than-life arena-rock heart-throb whose big statement is a coffeeshop record. What a letdown.
There's just enough good on Harry Styles to make its muted tone seem especially disappointing. The uproarious "Only Angel" opens with a sweeping fanfare of choral voices and strings, like a random snippet from a Muse record. Then a boisterous glam-rock riff kicks in accompanied by an irresistible "woo-hoo" hook. In the verse, Styles sings unrepentantly about lust: "I got splinters in my knuckles crawling across the floor," he pants. By the time the chorus appears for a second time, Styles has introduced a damn cowbell into the mix. That's it, Harry. That's the stuff.
But songs like "Only Angel" feel like the exception on Harry Styles. The heart of the record lies with tracks like "Two Ghosts," a surprisingly straightforward pop-country ballad in which Styles wearily likens himself and an ex to "two ghosts standing in the place of you and me." With all due respect to heartbroken 23-year-olds everywhere: Really? Do you really want to talk like a middle-aged divorcee at this time in your life? At least on "Only Angel," Styles sounds like an actual person in his early 20s — young, randy, and down for anything. That guy is a blast to be around. This other, more "mature" Harry Styles meanwhile is … kind of a drag.
"Two Ghosts" has already commanded a lot of media attention because it appears to comment on Styles' relationship with Taylor Swift, as well as Swift's songs about that short-lived union. "Same lips red, same eyes blue / same white shirt, couple more tattoos," Styles sings, an apparent reference to Swift's "Style" from 1989. But at the risk of making a potentially unfair comparison, "Two Ghosts" just made me think of "Cry Me A River," Justin Timberlake's epically vicious post-mortem on his tryst with Britney Spears from 2002's Justified.
Back then, Timberlake was making his own transition from boy band pin-up to adult superstar, only his swing was much harder and wider. Timberlake's level of ambition straight out of the gate as a solo artist underscores how relatively timid Styles seems. "Cry Me A River" was a mini-aria; "Two Ghosts" just feels mini. Hell, I'd be happy if Styles merely aspired to the swagger of Robbie Williams on his post-Take That opus, 1997's Life Thru A Lens. (For a truly unfavorable comparison, play Harry Styles next to George Michael's declaration of independence from Wham!, 1987's iconic blockbuster Faith, the greatest "forget my boy band past" album ever.)
If it seems like I'm being overly harsh on Mr. Styles, allow me to state my biases plainly: I'm rooting for the guy. I just want him to do better than this. I read last month's Rolling Stone profile, in which Styles bends over backward to show what a nice guy he is, even tossing a friendly "How are ya?" at the pool cleaner working at producer Jeff Bhasker's posh L.A. recording studio. The story was commonly interpreted to be Styles' classic-rock coming-out party, a perception shaped in large part by its author, Cameron Crowe, the myth-maker behind Almost Famous.
Back in the '70s, Crowe as an in-demand journalist among artists seeking a positive Rolling Stone cover story devoid of any juicy details about sex, drugs, or other forms of back-stage malfeasance. Sure enough, Crowe presents Styles as the most thoughtful, respectful (particularly toward his female fans), and chaste 20something wannabe rock superstar in human history. Check out this extremely Cameron Crowe passage:
What would a solo Harry Styles sound like? A plan came into focus. A song cycle about women and relationships. Ten songs. More of a rock sound. A bold single-color cover to match the working title: Pink. (He quotes the Clash's Paul Simonon: "Pink is the only true rock & roll colour.") Many of the details would change over the coming year — including the title, which would end up as Harry Styles — but one word stuck in his head.

"Honest," he says, a year later, driving through midcity Los Angeles in a dusty black Range Rover. He's lived here off and on for the past few years, always returning to London. Styles' car stereo pumps a mix of country and obscure classic rock. "I didn't want to write 'stories,' " he says. "I wanted to write my stories, things that happened to me. The number one thing was I wanted to be honest. I hadn't done that before."
If Jack White sat down with Cameron Crowe for a Rolling Stone interview and talked about the value of "honesty" in rock 'n' roll, today's pop-oriented music critics would ride him out on a rail. But Styles is a young kid from a pop milieu attempting to procure some gravitas, which makes him a naturally sympathetic figure in contemporary music journalism. But even if Crowe's propaganda riles up my skepticism, I'm also inclined to cheer for Styles to become the dashing rock star the world so desperately needs. Unfortunately, Harry Styles concept of rock music is identical to Crowe's failed 2016 Showtime series Roadies — earnest, sweet, conservative, defanged.
What bothers me is that I know that Styles is capable of producing actual exciting rock 'n' roll. I remain a hopeless fan of "Little Black Dress," a delicious power-pop deep-cut from One Direction's 2013 LP, Midnight Memories, on which Styles sings lead. This is what I wrote about "Little Black Dress" at the time: "'Little Black Dress' is a prime example of what used to be known as 'bubblegum' music, which Lester Bangs defined as 'the basic sound of rock and roll — minus the rage, fear, violence, and anomie.' That's 'Little Black Dress,' all right: It sounds like Big Star trying to re-create its own version of the Raspberries' 'Tonight' and getting reasonably close."
I still stand behind all of that, and really wish Harry Styles offered more of the same. The album's saving grace is its back half, in which Styles moves on from mawkish mid-tempo numbers like "Meet Me In The Hallway" and "Sweet Creature" and gets down to some bubblegum goodness. To me, the delightfully dumb chorus of "Kiwi" ("I'm having your baby! / It's none of your business!") and the sultry arrogance of the blues-soul highlight "Woman" are worth more than a hundred "honest" confessionals about whether Taylor Swift is a chore to be around.
If Harry Styles is supposed to be a "rock star" breakout, Styles sure has a strange idea of what a rock star is supposed to be. Styles lives in a fantasy world of potentially non-stop decadence and yet he's chosen to curl up inside with a cup of tea and a pair of headphones. The irony is that he's already one of the decade's biggest rock stars, from the era's biggest selling pop-rock band. Rock stardom is anointed by legions of screaming female fans, not graying ex-music journalists. Here's my advice for Styles moving forward: Act your age, not your record collection's age.
Harry Styles is out now. Get it here or stream it below.
[protected-iframe id="405ec98c1210b0c3701d1f66b0f56f04-60970621-76566046″ info="https://open.spotify.com/embed?uri=spotify:album:1FZKIm3JVDCxTchXDo5jOV" width="650″ height="380″ frameborder="0″]