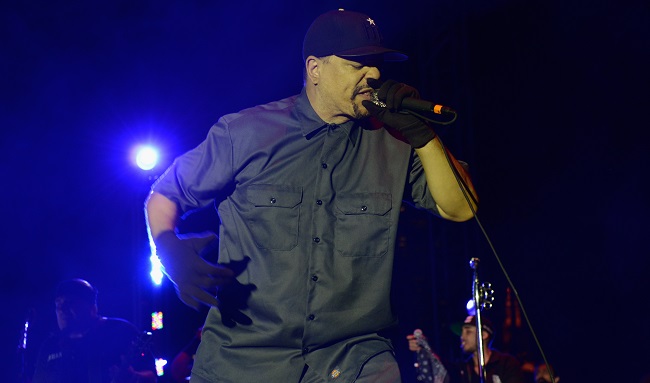 Update: The first run of limited edition prints have already sold out.
It may be hard for some folks to reconcile the image of Ice-T, important part of the hip-hop canon, with Ice-T, dogged fictional New York sex crimes detective. But famous street artist Shepard Fairey is looking to help us all along. In a blog post announcing new prints of the rapper drawn in Obey's propagandized house style, Fairey revealed that the one-time West Coast icon was an inspiration for his Andre The Giant stickers.
"I first heard Ice-T in 1988 around the same time I had also just picked up Public Enemy's Yo Bum Rush The Show album based on the Thrasher magazine description of Public Enemy as 'the new punk rock,'" Fairey wrote. "I'd say that the punk rock description applies to Ice-T, who is credited by many as the godfather of Gangster Rap (though Ice-T gives proper respects to Schoolly D). The first Ice-T record I heard was Power which had only come out a few days before."
That album's title track starts off with the lines "I'm livin' large as possible, posse unstoppable, Style topical, vividly optical" which Fairey credits with putting the word "posse" in his head to later re-appear in those famous stickers. In light of recent events, Fairey found himself thinking about Ice's more political work and decided to make a piece of art commemorating it. Using a photograph taken by Glen E. Friedman, he created a series of limited-edition prints of T around the release of "Power" and they're signed by Fairey, Friedman and the man himself.
The prints come in either red or blue and just went on sale about a half hour ago. They are 18 inches by 24 inches, screen printed and released in editions of 300 for $70. Buy one here.