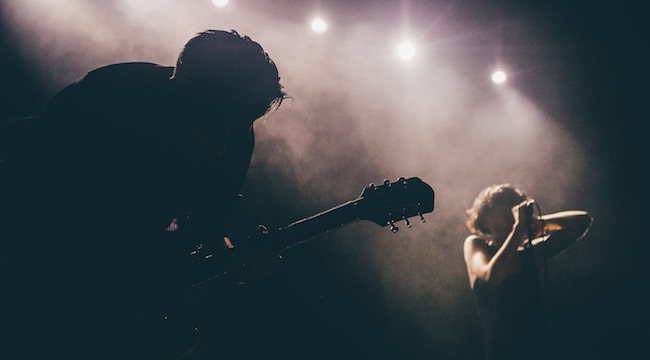 In a year that was otherwise mostly devastating, the holidays are supposed to be a fun time, filled with familial love and ginger-flavored food items (my favorite!). However, every family has that kid who's just discovered Bright Eyes and now considers themselves "too cool" for more traditional gifts like video games or sweaters. In an attempt to help make shopping for that person easier, we've compiled a diverse list of items that are just cool enough to fit the bill.
Vibes Hi-Fidelity Earplugs
Perfect for catching a show in a basement or a bar, the Vibes Hi-Fidelity Earplugs simply lower the volume of the live music environment, rather than blocking and muffling sounds like traditional earplugs. Therefore, you're still able you to hear everything around you clearly, it's all just a bit quieter! Each set comes with three interchangeable eartips that allow a comfortable fit for ears of any shape, and a small plastic carrying case. Additionally, for each set purchased, Vibes is donating to the Hear The World Foundation, an organization providing hearing healthcare to children in need across the world. These earplugs provide almost professional-grade quality, and are very moderately priced at $23.99. Pick up a pair here.
Washed Up Emo's The Anthology Of Emo: Volume One Book
To celebrate ten years of his site Washed Up Emo, Atlantic Records executive Tom Mullen put together an informative companion and one-stop-shop guide to the emo genre to, according to Mullen, "hopefully give you a wider sense and appreciation for the word and the genre as a whole." Priced at a modest $19.99, The Anthology Of Emo: Volume One features interviews with the Dashboard Confessional's Chris Carrabba, American Football's Mike Kinsella, and many others. Additionally, the 376-page book also features rare and never-before-seen photos from throughout the last decade. Order it here.

Green Day's Greatest Hits Vinyl
Listening through Green Day's new greatest hits album, it's hard to dispute the fact that they are God's favorite band. The double-album is megahit after megahit after megahit, and also features a brand new track called "Back In The USA," as well as a Miranda Lambert-featuring rendition of Revolution Radio's "Ordinary World." For the release of God's Favorite Band, Green Day rolled out a collection of bundle options, including t-shirts, vinyl, and prayer candles. Most of those bundles are sold out, but there are a few options remaining, ranging from $11.99 for just the CD to $34.99 for the "Alter Boy Vinyl Bundle," which includes some cool patches featuring album art from throughout the band's career. Pick up a bundle here.
My Bloody Valentine's Analog Vinyl Reissues
Earlier this year, My Bloody Valentine announced that they would be re-releasing Isn't Anything and their landmark LP Loveless on vinyl, making good on an almost two-year-old promise. Available January 18th, the LPs have been meticulously remastered from the original analog tapes, and will come packaged with a poly lined printed inner sleeve, and a heavy weight tip-on style gatefold sleeve cover. The LPs start at $24 each, with a special deluxe bundle featuring both Isn't Anything and Loveless, as well as a t-shirt priced at $84. Pre-order your copy here.
Invest In Tom DeLonge's Spaceship
Back in October, former Blink-182 frontman Tom DeLonge announced that he had started a company called To The Stars Academy Of Arts And Science, which aims to bring together various esteemed academics, asking them to focus their energies on figuring out what exists beyond the boundaries our own planet, and how we might go about understanding it. In the weeks after the announcement, DeLonge took to social media to explain the company's first project, asking for investments to crowdsource a spaceship. Specifically, according to his Facebook post, this craft is an "ElectroMagnetic Vehicle to travel instantaneously through space, air and water by engineering the fabric of space-time." To date, the company has raised upwards of $2 million(!!), and the minimum cost of investment is $200. Help fund the project here.

Run For Cover Records Flag & Poster Tube Bundle
This one is a gamble, as you choose your desired wall flag, and get eight (or more) posters, chosen completely at random from the Run For Cover warehouse. For those unfamiliar, Run For Cover is the Boston-based home of bands like Modern Baseball, Citizen, and many more. Recently, buzz-worthy Australian trio Camp Cope signed to Run For Cover for their sophomore LP How To Socialise & Make Friends, which is sure to be an early standout of 2018. The bundle is priced at only $20, and if you're lucky, you can get some high-quality artwork for your favorite bands, or discover something new! Pick it up here
Emo Accessory Pins From The Silver Spider Print Shop
Perfect for fastening to your backpack or jacket, the Silver Spider Print Shop boasts a wide variety of lapel pins inspired by emo bands. There are pins dedicated to the likes of Taking Back Sunday (pictured above) and Panic! At The Disco, as well as simple pins that declare your love for the genre. In addition to the emo stuff, there's a lot of generally cool accessories in the Silver Spider Print Shop store, with items inspired by Twin Peaks (there's a lot of those), Sylvia Plath, and much more. Check out the full store here.
Send A Bandcamp Album As A Gift
Since 2013, Bandcamp — the incredible and imperative free platform that allows unsigned artists to spread their music online — has featured the option to send records as a gift, allowing individuals to send loved ones music they deem enjoyable. There's also an option for those with a Bandcamp fan account to craft a wish list of records they hope to be sent one day, narrowing down the never-ending supply of artists using the platform. 2017 was a great year for underground music, and Bandcamp hosted most, if not all, of the releases. Unsure of where to start? Here are a few recommendations.

Lizzy Goodman's Meet Me In The Bathroom
Early 2000s New York City was a melting pot of musical ideas and aesthetics, birthing the likes of the Strokes, LCD Soundsystem, the Yeah Yeah Yeahs, Interpol, and countless others. In this lengthy oral history based on over two hundred interviews, Lizzy Goodman talks to those who were there at the beginning and throughout this era of creative explosion, crafting a compelling non-stop wealth of information that will be inspiring to those familiar with New York and not. Beginning in a slightly pre-9/11 New York at the turn of the millennium, Meet Me In The Bathroom works its way all the way up through the rise of Vampire Weekend, MGMT, and TV On The Radio, with the 600+ pages in between priced at less than $20. By all accounts, this read is a can't-miss. Order it here.
Descendents Coffee
Punk legends the Descendents love coffee, and they sing about it all the time. So it would make sense that the quartet would channel their infatuation with the thing than into creating "Bonus Blend," their own brand of caffeinated goodness. Roasted in Fort Collins, Colorado, the band tried different coffees from around the world until they found something that they thought epitomized everything they love about the drink, calling it, "Ultra dark, robust, and of course, eccentric." Priced at $24.99, the beans for "Bonus Blend" were sourced from Finca Candelaria, a family farm located in Guatemala, with a high altitude and volcanic soil rich with minerals that creates a perfect environment for coffee beans. Sounds good to me! Pick up a bag of "Bonus Blend" here.
Topshelf Records Label Subscription
Lately, a lot of independent labels have been launching subscriptions, allowing fans to pay a one-time cost in exchange for a copy of everything the label releases in a given year. One of the first labels to offer this incredible deal, Topshelf Records, just wrapped up a fantastic 2017 with albums from Del Paxton, Ratboys, and many more. For the subscription, fans are encouraged to choose whether they want to receive the releases digitally (priced at $100) or on vinyl ($200), with the label offering up subscriber exclusives and guarantees that subscribers will receive the rarest variant of each vinyl pressing. Additionally, a portion of the proceeds from every subscription donated to organizations like The Trevor Project, Planned Parenthood, & the NAACP Legal Defense Fund. Subscribe here.

Julien Baker's Turn Out The Lights T-Shirt Bundle
Julien Baker's Turn Out The Lights was one of the most astoundingly beautiful and simultaneously devastating records to come out this year. It landed at #32 on our Best Albums of 2017 list, and sees the 22-year-old singer/songwriter flawlessly settling into her new, larger spotlight. Over and over again, this record proves that it is one of the most impressive pieces of music to be released in 2017. For Turn Out The Lights, Baker's new home Matador Records made available a bundle of a physical copy of the record with a t-shirt. Both together are priced at $29, with the vinyl alone at $15 and the shirt $13.50. Pick up a bundle here.
For more gift-related inspiration this holiday season, take a peek at all of our other gift guides.