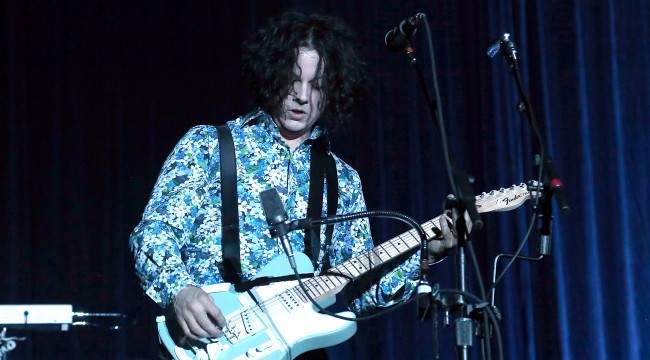 The time has finally come: only days after announcing headlining appearances at several summer festivals including Governors Ball, Boston Calling, and Shaky Knees, and Jack White has officially returned. Previewing the former White Stripes' leader's third solo album Boarding House Reach, and his first in over three years, comes in the form of "Connected By Love," which is set to premiere on Zane Lowe's Beats 1 radio show this afternoon.
The track sees White channeling a more electronic side than we've heard previously, with a simple kick-snare beat anchoring the verses and live drums entering for the chorus. It takes about two-and-a-half minutes for "Connected By Love" to sound like White's more familiar work with the introduction of his signature lead guitar sound, which fades as quickly as it appears.
As with most White singles, there is a b-side. "Connected By Love" comes with the spastic and unpredictable album track "Respect Commander," which truly marks uncharted territory for White and leans heavily on the electronic influences. Check out both tracks, along with the Pasqual Gutierrez-directed video for "Connected By Love," below.
[protected-iframe id="9255a9256f731b4f11526c1c98710bc8-60970621-76566046″ info="https://tools.applemusic.com/embed/v1/album/1331218953?country=us&itscg=30200&itsct=afftoolset_1″ width="100%" height="320px" frameborder="0″]

White previously teased Boarding House Reach late last year with a trippy sound collage that definitely showcased music that confirmed the artist's proclamation that the album was going to be "bizarre."
The Boarding House Reach release date is still to be announced, but a tri-color 7″ single will be available at Third Man's Detroit and Nashville storefronts this Saturday, 1/13 on a first come, first serve basis. Take peek at the Pink Floyd-inspired "Connected By Love" art below.