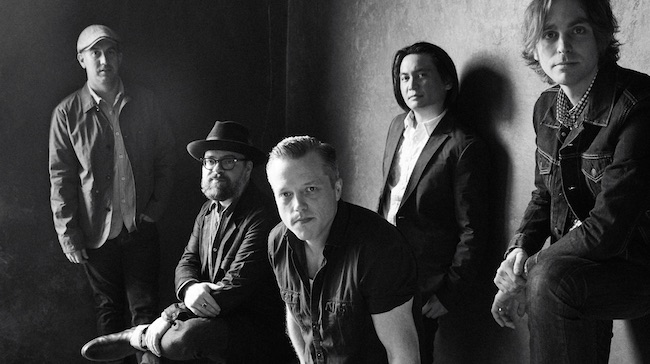 Thanks to the year-round gorgeous weather, Los Angeles boasts a couple of world-class outdoor amphitheaters that artists count it as a feather in their cap to book. While the Hollywood Bowl is one of Los Angeles' marquee outdoor venues, the Greek Theatre is not that far behind, acting as a little sister of sorts to the massive bowl, and helping catapult quickly-rising artists to bigger and bigger stages.
Today, it was announced that none other than Jason Isbell and the 400 Unit have been booked by the beloved Greek for a late summer set. With support from Aimee Mann — an incredible singer/songwriter in her own right — Isbell and his crew will play the Greek on Friday, August 31. Doors will be at 7:30 PM. Tickets for the show go on sale this Friday, 4/20 at 10 AM and range from around $30-$75. Check out more pre-sale info right here.
In case you need a brief primer on Isbell's rise to prominence, the singer/songwriter had a long stint as part of the great Drive-By Truckers before eventually splitting with that crew, continuing to release his own solo work, and finally, getting sober. After that change, he released 2013's Southeastern on his own label of the same name, and became a force to reckon with in the independent country/folk/Americana scene.
Shortly after, he followed up that huge breakout with the excellent Something More Than Free in 2015, and last year released yet another classic, The Nashville Sound. Isbell has won every Grammy he's been nominated for, including Best American Roots Song for Something More Than Free's "24 Frames," and Best Americana Album for that record, along with Best American Roots Song for The Nashville Sound's "If We Were Vampires," and Best Americana Album for that record.
Basically, if you have the chance to see Isbell at one of the best venues in the country, you should really take it; this is a mastermind performer working at the height of his craft, and you'd be foolish to miss what will surely be an exceptional concert. That pre-order link again, is right here.