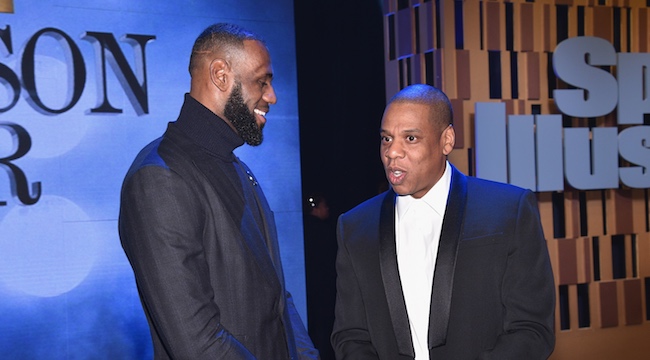 LeBron James and Jay-Z are pretty friendly with each other: They've been seen enjoying each other's company a bunch over the years, and LeBron and Dwyane Wade had an excellent time at a recent Jay-Z concert in Detroit. Still, even best friends fight sometimes, and the rapper took exception to something LeBron said recently.
Last week, LeBron posted a photo on Instagram of himself standing on the New York Knicks' center court logo and captioned it, "[crown emoji] of New York," the implication of course being that he's calling himself the "king of New York." Well, Jay-Z performed at Quicken Loans arena in Cleveland, where LeBron's Cavaliers play their home games, this past weekend, and he took the opportunity to playfully fire back at his friend by calling himself the king of Cleveland:

"I said, 'Hey man, you my guy and all that, but you can't be taking pictures at The Garden talking about you're the king of New York. So I told him I'm coming to Cleveland: I'm the king of Cleveland now!"
Right after that, he invited some people on stage and told them, "I want y'all to take the first picture with the king of Cleveland!"
Watch the moment unfold in the video above, and keep an eye on LeBron's Instagram for an Arthur meme response.