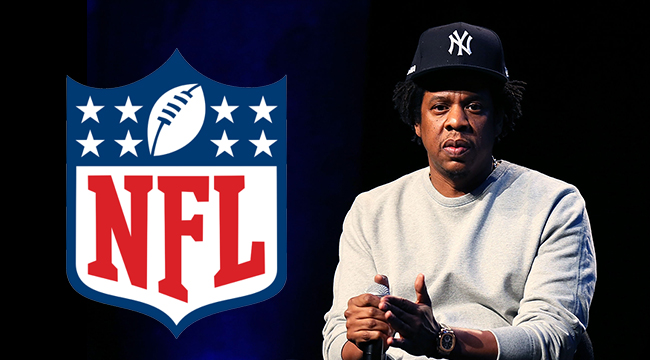 This week, Roc Nation announced a long-term partnership with the NFL. Jay-Z will reportedly have a major say in picking songs for Super Bowl halftime shows and other major NFL events. The New York Times reports that he will also "contribute" to Inspire Change, the NFL's charity organization.
Inspire Change's official website states that the campaign "supports programs and initiatives that reduce barriers to opportunity," and prioritizes "education and economic advancement, police and community relations, and criminal justice reform" as the three issues they long to tackle. NFL commissioner Roger Goodell said that "the NFL and Roc Nation share a vision of inspiring meaningful social change across our country."
But it's not the two companies' shared interests that make the partnership newsworthy — it's their differences. In the past several years, Jay-Z has become a Godfather-esque figure to artists, funding Meek Mill's fight against his probation plight and 21 Savage's defense against ICE. He's also donated money to the Black Lives Matter organization and founded the criminal justice reform organization REFORM Alliance. Meanwhile, the NFL has veritably blackballed Colin Kaepernick for kneeling during the National Anthem to protest systemic racism and has reportedly sought to penalize outspoken Kaepernick advocate Eric Reid through excessive drug testing.
Jay-Z refused to perform at Super Bowl 53, and rapped, "I said no to the Super Bowl: you need me, I don't need you" on 2018's "APESH*T." At the time, the line read like a triumphant condemnation of the retrograde league. But in light of the recent partnership, it sounds like he was setting the terms of negotiation. Jay-Z told Travis Scott not to perform at the Super Bowl last December, but he divulged at a recent press conference that the move had nothing to do with Kaepernick. He said that he felt Travis Scott was becoming a household name after his Astroworld album and didn't want him to play "second fiddle" to Adam Levine.
His stance against the NFL wasn't about racial politics; apparently, it was about industry politics all along. Tellingly, Jay-Z had never clarified his reasoning for deterring Travis Scott's performance until it was financially beneficial to do so. There have been people angrily chastising Jay-Z after the partnership announcement, but they were never paying attention. He's been making money with the NFL, as his Roc Nation Sports agency has retained NFL clients throughout the Kaepernick controversy. He told the world on his first album that he was a capitalist, and the backlash reflects a societal misinterpretation of what the term actually means.
The sin of a capitalist isn't the unethical action, it's adopting the mentality that justifies it. Jay-Z has made several commendable deals in the past 20 years, but when you're out for "Dead Presidents" to represent you, questionable partnerships and effectual plundering of the downtrodden are par for the course and ripe to be compartmentalized as the "cost of doing business."
On "Moment Of Clarity," Jay-Z presented his "win/win" philosophy, in which he builds his riches with "a room full of vultures," but gives back to his people when he can. Inspire Change's mission statement does dovetail with Jay-Z's efforts to offer opportunities to disadvantaged youth through his Shawn Carter Scholarship Fund and enact criminal justice reform. His REFORM Alliance is geared toward fighting "illogical laws that make no sense" for the 4.5 million Americans on probation and parole.
But what's truly illogical is the reality that Inspire Change was started by NFL owners who support politicians who enacted those draconian laws. Nine NFL owners donated money to Trump's 2016 Election campaign, including New England Patriots owner Robert Kraft, who Jay-Z partnered with on REFORM Alliance. A deeper absurdity is that the NFL owners have pledged $89 million dollars to social justice causes, but Colin Kaepernick, who first brought light to those issues, doesn't have a team. Last year Eric Reid called fellow player Malcolm Jenkins "a sellout" for accepting the owners' pledge in exchange for refusing to protest because Kaepernick remains unsigned.
The owners' collective reticence to sign Kaepernick reflects the disingenuousness of Inspire Change and the opportunism of their political convictions. Jay-Z's partnership with the organization, which was created merely to save face in the midst of a PR nightmare, reflects the limits of his own agency. While the organization will no doubt help people, it doesn't overshadow his history of business ventures that hurt others.
In 2012, Jay-Z was a face of the NBA's New Jersey Nets' move to Brooklyn and the building of the Barclays Center in downtown Brooklyn. While many Brooklynites were excited about the move, there were others who agreed with activist Beverly Corbin that the Barclay Center project was a "con game by a few people against the people of Brooklyn."
Today marks the three year anniversary of the first time I protested systemic oppression. I continue to work and stand with the people in our fight for liberation, despite those who are trying to erase the movement! The movement has always lived with the people! ✊🏾

🎥: @REL pic.twitter.com/TAqumRfjbi

— Colin Kaepernick (@Kaepernick7) August 14, 2019
The arena displaced thousands of low-income residents and raised the rent for small businesses in the area. Several expressed in the book Brooklyn Wars that the arena had no positive impact on their businesses and that the property value became so high that they had to sell them. Jay-Z reps Brooklyn to the utmost, but he was also used as the face of one of the most high-profile examples of gentrification that New York City has seen.
Jay-Z's most recent public comments about the Barclays Center flap included quibbles about people thinking he got wealthy off of the move vs. others who criticize him for not owning enough of the team (his stake in the Nets was 0.15%), but the sticking point wasn't how much money he made. The people who lost their homes and livelihoods likely don't care if he made $10 billion or $.10. Brooklyn resident Alvin Bartolomay told NextCity.org that he was initially excited about the move, but "as I got more politically understanding of things, to me, there's no benefit at all." Unfortunately, the plight of residents like him was lost in the PR campaign extolling Jay-Z's business acumen. Fans incited hollow commendations of "Black excellence," which so frequently ignores the Black exploitation often tied to big-money deals.
Kaepernick is more famous than any of those Brooklyn residents on the figurative ass-end of Jay-Z's Barclays triumph. It's currently unknown how Kaepernick feels about Jay-Z's partnership, though his girlfriend Nessa said that "the disappointment in Jay-Z isn't in the partnership. The disappointment is wrapping it in social justice" on New York's Hot 97. There are hoards of observers criticizing the rapper for going back on his advocacy for Kaepernick in order to become a "live music entertainment strategist" for the NFL. Nessa added that Kaepernick "didn't just take a knee, he put the work behind it. And he lost his career for it."
And the NFL has expressed no urgency to give it back. During Wednesday's press conference, Jay-Z said that "I think that we forget that Colin's whole thing was to bring attention to social injustice, so in that case, this is a success." He also surmised that "this is the next thing," but that's only for Colin to say. It's his fight and despite the NFL's constant attempts to co-opt his protest, that will never change. It's not anyone else's place to decide the success of a mission he embarked on.
NFL owners know that bringing Kaepernick back will upset their conservative fans and cause an even more damaging boycott from their conservative, ticket-buying base. But as long as Kaepernick isn't employed by the NFL, Inspire Change will continue to have the appearance of an expensive PR stunt to make nice with Black America while colluding against the quarterback for speaking his truth. As such, any prominent Black figures who align with the league will necessarily look to fans like nothing more than opportunists — or perhaps, just capitalists.