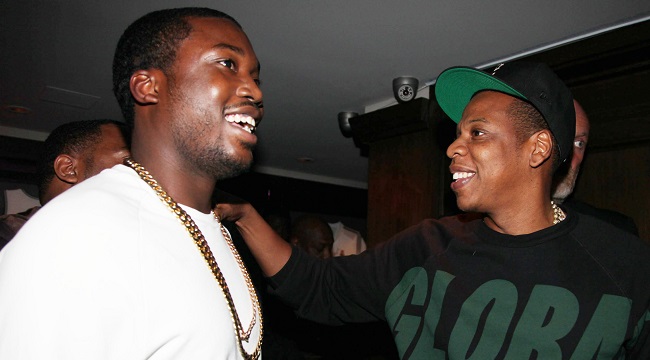 Meek Mill has been making the media rounds since being free while on appeal, and today The Breakfast Club posted their interview with him. Meek spoke on a variety of topics in the hour-long interview, addressing how grateful he was for the people who advocated for him, including those who protested through the rain to shed light on his unjust 2-to-4 year probation violation for — among other minor incidents — popping a wheelie. He also expressed particular gratitude for Jay-Z, not just for him and Beyonce saying "Free Meek" on DJ Khaled's "Top Off," but for Jay-Z helping him in a more tangible way: contributing to some of his legal fees.
Meek notes that Jay-Z's move to help him with what he said were "millions" in legal fees was "dope." Meek is a member of Roc Nation, the label his judge Genece Brinkley allegedly suggested that he leave in order to once again procure the services of his former manager Charlie Mack. Brinkley is reportedly under FBI investigation for that and allegedly asking Meek to make her a song. It seems if Meek had taken her advice and left Roc Nation, he may not have as easily been able to foot the bill for the services of Joe Tacopina and the other lawyers who worked tirelessly to free him from his probation violation – and the allegedly shoddy case that instituted the probation in the first place. It's also worth noting that he would have had more money to put toward the case if Brinkley hadn't cost him up to $30 million in missed shows and endorsements over the course of his 10-year probation.
Meek sounded in good spirits throughout the interview, focused on continuing his criminal justice reform efforts and saying he would try to talk it out with any of the rappers he's previously had issues with. He said that he had a cordial conversation with fellow Philadelphian Beanie Sigel since coming home (perhaps at this Sixers game), and picked up "good energy" while on Facetime with someone who was around Drake at the time. It's unclear if they actually said anything to each other, but Meek says he feels like they will eventually have a "conversation" and "keep it moving," especially since Drake shouted him out while he was incarcerated on December's "Family Feud" freestyle with Lil Wayne. You can watch the comprehensive interview in full above.