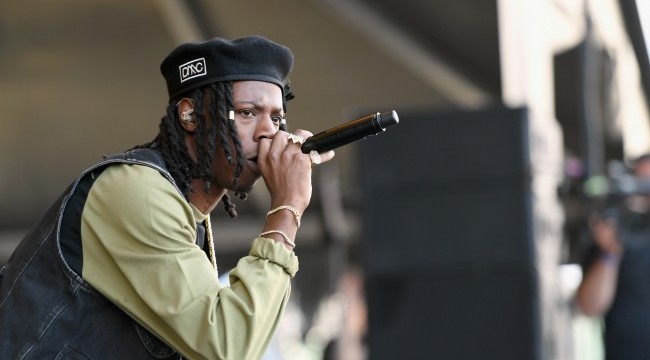 Post Malone's already had to walk back his comments about hip-hop's lack of "real sh*t," but with the reveal that Joey Badass helped write his no. 1 single, "Rockstar," he may have to do a lot more explaining in his next few interviews. Joey took to Twitter to respond to a rap blog's story that T-Pain had revealed the original version of the hit contained himself and Badass instead of 21 Savage, admitting that he not only co-wrote the song but received his first no. 1 along with Post — albeit covertly.
The original version of the song leaked online earlier this week, causing a minor frenzy among rap heads who were surprised to find that this version not only lacked the 21 Savage verse of the finished project but included new verses from T-Pain and Joey Badass. When pressed about the existence of a "remix," by a fan on Twitter, Pain pointed out that the "new" version was actually the original.
When HotNewHipHop tweeted the link to their post about the news, Joey quoted their tweet while adding in his two cents. "This is facts…" Joey wrote in his quote reply, "I actually co-wrote the song w post :) quietly got my first #1 off that more ghostwriting in 2018."
When Post Malone said that nobody talks about "real sh*t" in hip-hop, it's entirely possible that he didn't know who his co-writer was, which makes his success as a hip-hop artist look even more funny in the light. Joey's All Amerikkkan Badass was one of the year's most poignant, political projects, which tackled a wealth of "real sh*t" from America's fraught relationship with ethnic minorities and racial profiling to Joey's own struggles with depression. As it turns out, that didn't stop him from contributing to Post's first no. 1 hit — maybe hip-hop has room for "real sh*t" and "Rockstar(s)" after all.