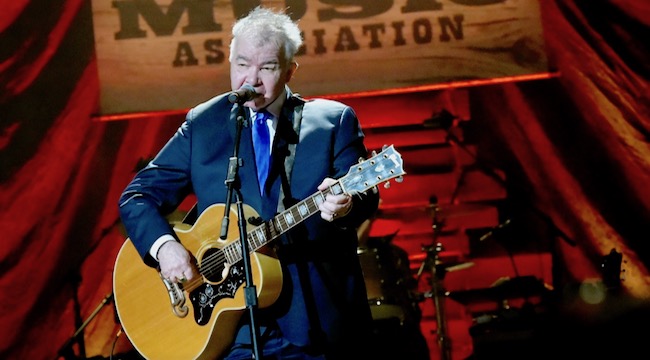 Talk about an incredible triumvirate of American songwriting excellence. Last night regular viewers of The Late Show With Stephen Colbert were treated to an extra-special treat when the night's marquee musical guest John Prine was joined onstage for the first time ever by Brandi Carlile and Sturgill Simpson. The trio, along with Prine's band deftly performed one of the new cuts from his most recent album The Tree of Forgiveness, a tender track titled "Summer's End."
Prine is no stranger to collaboration these days. The Tree Of Forgiveness features a collection of some of the most deft songwriters of the modern era, including Black Keys frontman Dan Auerbach, Americana-expert Jason Isbell and his wife, the amazing Amanda Shires.
In a recent interview with Uproxx's Steven Hyden, Prine talked about the benefit of living in Nashville surrounded by so much talent at all times. "When you're in Nashville, you run into a lot of them. Guy Clark just passed two years ago, and I used to run into Guy all the time. I was out doing my chores, and I'd stop by his house, whether it was just five minutes or a couple of hours, just to stop in and say hello. Especially after he got off the road and couldn't travel no more. A lot of really good songwriters live here in Nashville. Townes Van Zandt used to live here. There's a lot of people you run into."
Watch John Prine's performance of "Summer's End" with Brandi Carlile and Sturgill Simpson above.