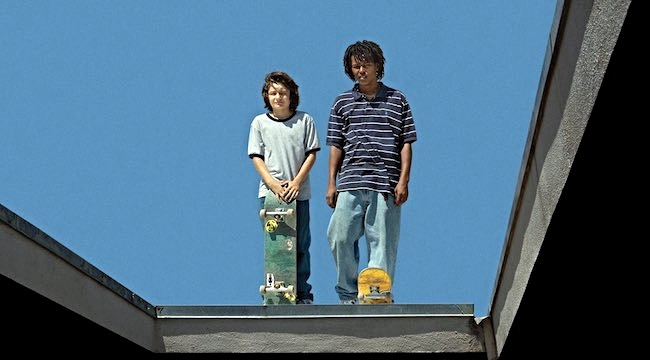 Jonah Hill's directorial debut, Mid90s, makes its theater debut this week, but before you go soak up the skate-punk nostalgia of his A24-produced coming-of-age tale, you can prime yourself with the Spotify's first official soundtrack playlist of songs from and inspired by the film.
Or rather, it's the music the film was inspired by. "The music in Mid90s is incredibly personal to me," Hill shared in a press release announcing the soundtrack. "This film was written and shot to these specific tracks, many of which were so important to my own life growing up. I was always a diehard fan of classic movie soundtracks, so when we started talking about the best way to release our soundtrack in the streaming era, I couldn't have been more thrilled to collaborate with Spotify on such a new and exciting concept that I think reinvents what movie soundtracks can be going forward."
The playlist features the classic, 1990s-era skate rat tunes that you'd catch soundtracking bootleg skate videos on VHS or blasting out of boomboxes at local skate shops, before skate parks were a widespread phenomenon and Tony Hawk was a household name. A Tribe Called Quest, Bad Brains, Del The Funky Homo Sapien, Misfits, Nirvana, The Pixies, Wu-Tang Clan, and more appear on the 16-song playlist. It's perfect to throw on and chill — from '93 'til.