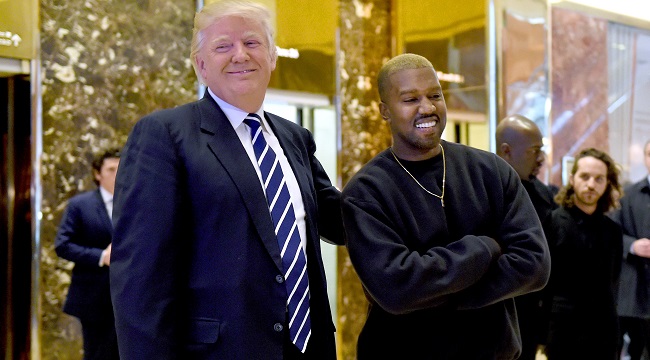 Kanye West is a difficult person to fully understand at this point in history, but in a new story in The New York Times, Jon Caramanica, with whom Kanye has spoken multiple times before, offers a revealing look into the inner workings of the increasingly enigmatic rapper.
In the lengthy piece is a description of a phone call between Kanye and Virgil Abloh, his former mentee and the new artistic director of men's wear at Louis Vuitton, and during their conversation, Kanye seemed surprised that people are listening to Ye, asking Abloh, "I'm not canceled out the culture? People are listening to it?"
Despite that, Kanye still feels like he's been canceled, saying about his Ye listening party, "Half that audience that was there last night, half the people that are listening to the album are supposed to not listen to the album right now. I'm canceled. I'm canceled because I didn't cancel Trump."
He went on to speak about the appeal of Trump, praising his willingness to speak his mind:
"Getting out, learning how to not be highly medicated and, you know, just standing up saying I know I could lose a lot of things, but just standing up and saying what you feel, and not even doing a lot of research on it. Having a political opinion that's overly informed, it's like knowing how to dress, as opposed to being a child — 'I like this.' I hear Trump talk and I'm like, I like the way it sounds, knowing that there's people who like me that don't like the way it sounds."
The story also notes, among other things, that Ye was, in fact, a last-minute affair: Eight days before the album came out, none of the lyrics were written, and Kanye still watched Deadpool 2 twice.
Read the full article here.