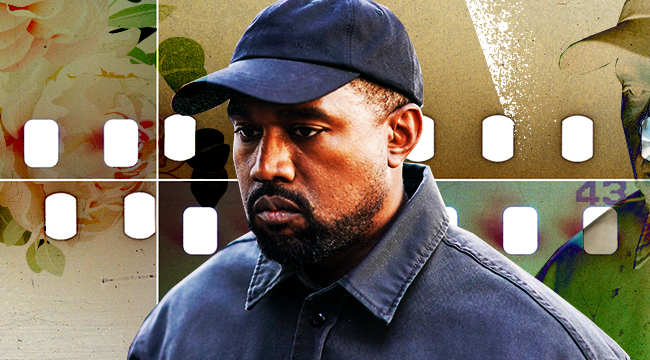 Last Friday night, legendary DJ Clark Kent dropped Kanye West's "XTCY" track at the artist's behest. On the song, Kanye rhymes rather creepily about wanting to "smash" his Kardashian/Jenner sister-in-laws. The song had a couple clever lines, but ultimately he delivered his lyrics with a ho-hum energy that made one Twitter user surmise that, "I bet Kanye ain't even listened to 'XTCY.'"
While Kanye the producer maintains his god-given, self-developed genius, Kanye the rapper hasn't demonstrated the same vocal conviction and incisive lyricism that once marked him as a musical genius. In 2014, he gave the figurative crown of best rapper to Drake, telling GQ that "last summer was Drake's" and he'd "never given [the game] up til last summer." When asked if he wanted to re-attain his spot, he pondered, "It's a real question for me. Do I want to?"
Since at least 2014, it hasn't sounded like he has. As his foray into fashion has progressed, the potency of his lyrics have regressed. He separated from previous stalwarts of his creative process such as Rhymefest, Malik Yusef, Really Doe — even Consequence at a point — and his lyrical content started to suffer. His 2015 appearance on A$AP Rocky's "Jukebox Joints" left a lot to be desired. Ditto his 2016 feature on Schoolboy Q's "That Part." 2016's The Life Of Pablo was a sonic tour de force that evolved at breakneck speed, but save for confessional moments like "30 Hours" and "Real Friends," it wasn't as lyrically substantive as his previous work.
Many hip-hop lovers assumed that Kanye needed a break to recollect himself, which he did for all of 2017 after suffering a mental health crisis in December 2016. But on Ye, he still sounds like a rapper for which rap is no longer a priority. Perhaps he hasn't fully shaken the doldrums of mental illness. He was reportedly so low in 2017 that self-help guru Tony Robbins came to his house and performed an intervention. Robbins asked him to simply yell in affirmation of being, but he was too timid to scream in his own house. He's noted recently that self-confidence is one of his "superpowers," and maybe he's still getting reacquainted with it.
His superpower of producing is still intact though. "XTCY's" production sounded solid. His work on Migos' "BBO" was one of the highlights of Culture II. The soundscape on Ye, and the rest of the albums that he produced during his GOOD June of releases was majestic at junctures. For the guy who honed his craft doing "3 beats a day for three summers" like he recalled on his "Spaceship" classic, chopping a sample into a dope beat is like riding a bike. Kanye was clearly in the studio and his eerily taupe mansion working his beat machine to death.
He shook out of his depression by making beats all of last year and earlier this summer. During his recent appearance on Jimmy Kimmel Live, he said that the process of buying records and making beats was "therapeutic" for him, and reminded him of "being 14-years-old in my mom's house." But the actual lyrics for Ye, his major comeback album, weren't written until 8 days before the album dropped. He told Kimmel that he would give his song ideas to six or seven people then "go to sleep" while they were crafting it, likely tired from his beat-making. It's a stark contrast to his previous creative process, where he would work together with his lyrical collaborators, judging their contributions on the spot. One would assume he'd painstakingly craft the lyrics to an album that represented his musical crossroads, but the creative solace for him was actually in the beats, not the bars.
It may be hard for some younger fans to recall, but there was a time when all Kanye was known for was his beats. He whipped up classic, soulful beats as an in-house producer for Rocafella Records artists, including handling a bulk of the production duties on Jay-Z's The Blueprint opus. But Kanye had designs on becoming a rapper in his own right. And as he told Kimmel, he didn't want to just be a rapper-producer judged on a curve, but a rapper considered as good as other MCs.
There were doubts about his ability to make the transition, but his ambition to succeed and fervor for rhyming is legendary. There are videos of him rapping at Fat Beats in 1996, and a video of him rapping for Pharell. DJ Whoo Kid has recalled that on the night of Kanye's nearly-fatal car crash, he kicked Yeezy out of the studio. Why? Because he was rapping for too long in a bid to impress Ludacris, who was simply trying to drop a quick verse for Whoo Kid and get to LAX. Kanye even ciphered along with a then-unsigned Rick Ross. It was clear in his zest to rhyme for seemingly any and everyone he came across that he longed to be known as a good rapper as well as a dope producer.
In a bid to validate himself to others as an MC, he tediously developed his craft. He recorded rough versions of songs that would later win him acclaim, which can be heard on the unofficial Freshman Adjustment mixtape series. His rhyming acumen got to the level where Rhymefest gave him the "Jesus Walks" song he had written in part because he acknowledged that Kanye could rap it better. "Jesus Walks" and the rest of College Dropout helped vault Kanye to solo stardom and minted him as a credible rapper second only to Jay-Z in the Roc-A-Fella hierarchy. His second album Late Registration did even better, nabbing a Grammy for Best Rap Album and winning him acclaim from Time for the "stealthy power of his storytelling" on songs like "Roses," "Drive Slow," and "Hey Mama."
Though it was known that his GOOD Music team, which included rappers Consequence, Rhymefest and GLC, contributed to those albums, the extent of their assistance was and is unknown. Kanye's initial rise was perceived to be largely on his own merit, from his beats to his rhymes — and he kept up that appearance as a means to cement his credentials as a rapper. He griped in the October 2007 issue of XXL about the difficulty of keeping up with "his stiffest competition" Lil Wayne: "I have to put in so much more work to make raps that's on that caliber…if all I did was rap, I could be on that caliber," he said, with no mention of any other writers. He certainly projected a public perception that he was dedicated to writing his own lyrics.
But by 2008, he told MTV that his competition was now acts like Pink Floyd, Radiohead, and Phil Collins, which was a sign that he was looking to push the boundaries of hip-hop — even if that meant sacrificing the sacred cow of solo songwriting. In 2010, former Complex Editor-In-Chief Noah Callahan-Bever visited Kanye in Hawaii and offered the first glimpse into the "communal" environment of a Kanye studio session. While crafting his My Beautiful Dark Twisted Fantasy album, he held a writing camp in Hawaii and crafted his lyrics for the project with an assortment of rhymers and producers. The story marked a shift. It was one of the first moments that he felt secure publicizing the help he got as a rhymer — in part because he had conquered the genre and was too busy trying to break the mold in another industry.
After My Beautiful Dark Twisted Fantasy and Watch The Throne, Kanye began taking his designer ideations literal, venturing into the fashion world. In a January 2012 tweetstorm, he admitted that he poured his tour money into "[following] my passion" of fashion. He recalled internships at Fendi, and journeys to Paris, Japan, and Rome to learn the ropes of the industry. The interviews he had during his Yeezus album cycle were more about him clarifying his value to European fashion houses than promoting his music. The fire he once had to show people he could hang as a rhymer was morphed into kicking down similar doors in the fashion industry.
He had no problem admitting that he had found a new passion because he's a naturally gifted producer, but not a natural rhymer. He doesn't have the MC's innate hunger to, as Elliott Wilson wrote about Jay-Z in 2008, "go toe to toe with any and all comers from rap's next generation." Kanye loved rapping for a prolonged period, but rhyming isn't the entirety of his artistry — or even his most impressive musical exploit.
He once rapped on Talib Kweli's 2005 "Get By" remix, "don't let nobody with the power to sign, ever tell you you ain't got the power to rhyme." Once he achieved that power, seized the moment, and ceded it to Drake, the luster of rhyming gradually wore off for him. That super-power of self-confidence was then transfixed on making a mark in the fashion world.
Kanye, like many of us, longed to prove himself to a world of doubters. Unlike many of us, he re-wrote history during his pursuit. Once he achieved superstardom as a rapper, it was onto the next pursuit, as it often is for visionaries. That's one of the few commendable things about Kanye in 2018. But if he's going to continue to sound like he did on Ye and "XTCY," it also means that it's time for him to listen to what Jay-Z and others once told him way back and stick to the beats — with the solace that he had a hell of a run proving them wrong.