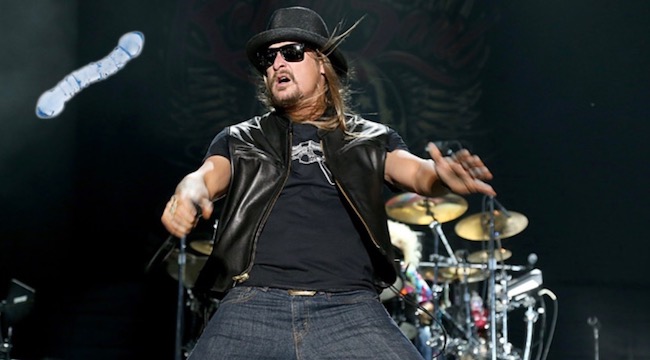 While he continues to play the "Will He?" or "Won't He" dance with the great people of the state of Michigan over the upcoming race for US Senate, Kid Rock remains pretty busy handling the duties of his day job, performing in arenas across the country. Tonight, the Detroit native is playing a hug gig in his hometown, hosting the long-awaited grand opening of the city's Little Caesars Arena.
While many thousands of his fans will be in attendance for the historic show, don't expect to read a recap in the Detroit Free Press tomorrow morning because Kid Rock has reportedly banned the publication from covering the event.
According to the paper, Kid's Rock took exception to this article that they published titled "Kid Rock Opener At Little Caesars Arena Is Middle Finger To Detroiters." In the piece, Editorial Page Editor Stephen Henderson was none too kind to Rock about his relationship to the city.
"This is a man who is exploitative and resentful of the city's population, not a man who is for Detroit and Detroiters. It's hurtful. It's disrespectful. And in the context of the current national racial strife, born of racist torch marches, of presidential equivocations, and of a prolonged debate about the presence of racist history in our midst, I think the Kid Rock extravaganza at a new Detroit arena is absolutely nuts."
According to Kid's publicist Kirt Webster who was asked about the reason they would not be allowed to cover the show, "You guys wrote a f****ed up story and allowed it to be published. You want a quote, there it is." He added that, "To be published without doing any fact checking on what Kid Rock has done for the city of Detroit? We don't condone bad behavior. We won't reward bad behavior."