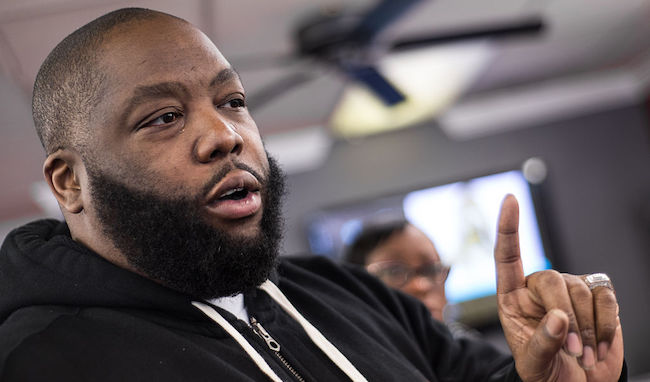 Like many Bernie Sanders supporters, Killer Mike has found himself searching for a presidential candidate to support now that the race has been narrowed to Donald Trump and Hillary Clinton (in addition to a few third-party options.) And also just like some of those diehard Bernie folks, he's not particularly enamored with his choices.
The Run The Jewels member recently told TMZ he's currently not only not voting for Trump, but he's not voting for Clinton either, saying that "voting for Trump or Hillary Clinton, you're voting for the same thing." The "Bernie or Bust" crowd, despite the Senator's numerous protests to avoid that mentality, seems to still be roaring, at least with the Atlanta rapper.
Killer Mike's interview with Sanders was a viral hit, he played the role of Sanders' surrogate following one of the Democratic presidential debates and made his pitch for Sanders on The Late Show with Stephen Colbert. He also publicly criticized the former secretary of state in February, taking umbrage with her response to a Black Lives Matter protestor who disrupted one of her events in South Carolina.
So yeah, he's not onboard with jumping from one Democratic candidate to the other and in the TMZ interview, he reiterated his fondness for Sanders, while laying out the choices left on the table.
"As Americans, we have to understand that, in the world, we're an empire — we're an empirical force — and we have to, we need to, as citizens, start demanding. We had one candidate this year, who had a strong chance of winning, who was anti-growing war, and that was Sanders, and we didn't vote him in, so we're getting what we asked for. We're asking for more war. And, if you don't want any war, you'd be voting Jill Stein. If you want less government and war, you'd be voting Gary Johnson. But if you're voting for Trump or Hillary Clinton, you're voting for the same thing. All of us, as citizens, need to kind of get over our classisms and vote for the betterment of us all."
Killer Mike was also asked about Trump's recent remark, in which he suggested (either jokingly or not, depending on who you listen to) that "the Second Amendment" people could do something to stop Clinton.
"I don't think that's what he was saying. I hope that's not what he was saying. He's batsh*t crazy, but I don't think he would call for the assassination of another presidential candidate."
While that may be open to interpretation, these Obama is the founder of ISIS claims Trump is (allegedly sarcastically) making?
"I just think that's crazy, but he's not the only one that said it. I mean, not said that, but said crazy stuff. If you listen to Fox News, you hear the wildest sh*t every day. So, my thing is, Donald Trump, essentially, is repeating the same stuff I hear when I watch Fox News, so I'm not surprised by it, but I don't think our president – but I do think our government has done a great job at destabilizing countries and creating enemies."
So in other words, Killer Mike, how are you feeling about the election?
Okay. Fair enough.
(Via Pitchfork)