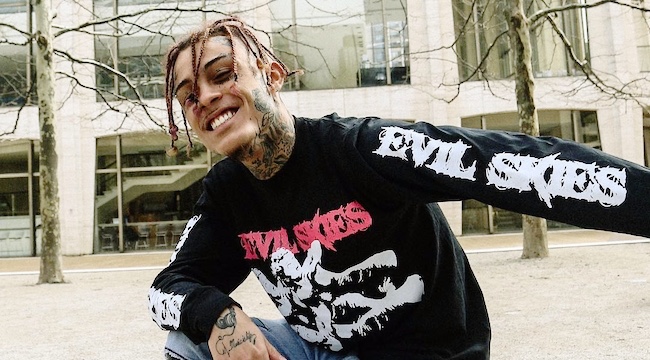 Lil Skies has become a hot commodity in the rap game seemingly overnight. His debut mixtape, Life Of A Dark Rose — which blurs the line between the "mixtape" and "album" distinctions practically into nonexistence — went to no. 10 on the Billboard 200 chart after only two weeks, his video for "Red Roses," directed by Cole Bennett has accumulated over 44 million views since October, and he's already gearing up to start working with Gucci Mane, whose ear for talent has proven just about impeccable.
To hear him tell the story, though, none of this is a surprise — if anything, it was just about inevitable. In a new interview with Billboard, the fast-rising Pennsylvanian rap star detailed how his father inspired him to make music before almost dying in an accident, working with Gucci Mane, and why all his newfound success may come down to his decision to get his distinctive facial tattoos.
https://www.instagram.com/p/BeWViavFzIf/?taken-by=lilskies
Your dad is a musician who goes by the name Dark Skies. How excited was he when he found out you were going to do music full-time — and then, pay homage to his name?

My dad has always been excited, and he has always been the real supporter. Like I said, that was me and his relationship. He was like, "If you wanna do this shit, you gonna do it." That's what he always said to me. I take that advice with everything in life. I was like, "Damn, I wanna go crazy with the tats. I'ma do it." So I did it.

On the intro, "Welcome to the Rodeo," you speak about your face tattoos and how you use them as motivation. Looking back at them now, because you have already gained success in your career this early on, do you have any regrets about your tattoos?

Hell no. I'm probably not getting no more now, 'cause I done took up like hella space, but I stay getting new tats, man. That shit's like music. It's just something that grows with me. I just be going with the flow. I know for sure that when I get a new tat, it's for life. I don't got no regrets with any of my tats. I got tattoos that are really old looking, old feeling, but at the same time, I like it. It's art to me.

What's your most meaningful one?

My most meaningful one is the one I got for my friend Shaq. I never mention this one. I got these two on my wrist for my pops. It says April 28th, 2010. That's the day my dad almost died and shit.

The explosion right?

Yeah, the explosion and shit. That was just a big one for me. Both of these tats, definitely.

How did that explosion change your mindset on not only life but I'm assuming that pushed you to do music and take it seriously?

I wasn't cocky or anything, but I was like my dad, and my dad was kind of big-headed, you feel me? So after seeing that shit, that definitely changed me. I was still young, but in school I just thought I was that dude. But that shit made me realize God is real, and he can take this shit away from you at any time, so you gotta really cherish this.

It was crazy to me, because I feel like I was one of those kids where the weirdest shit would happen in their life. Some shit like that would happen — like, your pops will blow up. I've been through hella shit in my life… but I know it like means something. I gotta take the best and the worst from each situation. And my dad, that shit made us closer. It was a blessing.