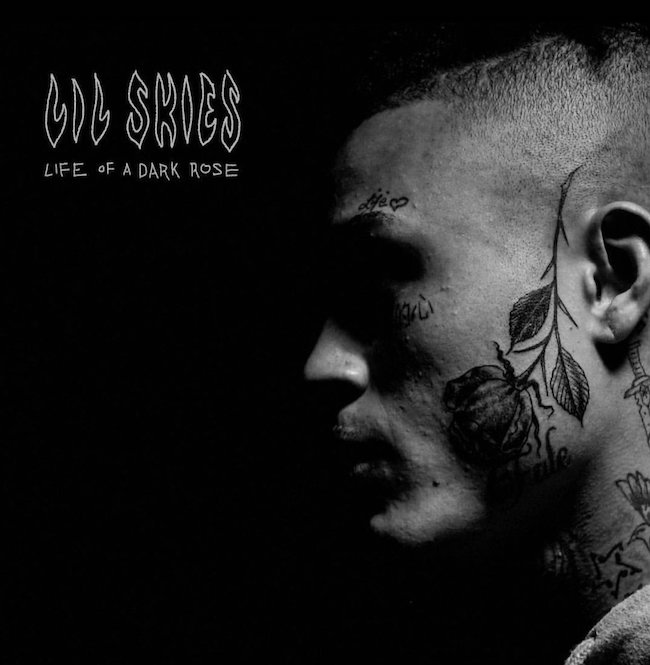 It takes just 90 seconds for Lil Skies to make his intentions inherently clear on his new mixtape Life Of A Dark Rose. "I got tattoos on my face, I use that sh*t as motivation," he raps on the opener "Welcome To The Rodeo," before adding "I can never get a job, so for my dream I'm dedicated." The Pennsylvania native makes it clear he has no Plan B — he's here for the long haul. Judging by the lush sounds of the 14-track tape, the Atlantic signee is going to be just fine.
What separates Skies is he isn't your typical "Lil" rapper with face tats, sporting pockets full of pills and cups full of syrup. Born Kimetirus Foose, the 19-year-old took the Skies mantle from his father, a former rapper himself, and hit the ground running after being nurtured in the studio as a toddler. After being estranged along the way, father and son eventually reconciled after an accident at work left the elder Skies permanently disfigured. It was then that Lil Skies turned to tattoos as a form of expression and tribute, rather than just a way to look cool on Youtube.
But Lil Skies separates from the pack on wax as well, as he dabbles in multiple approaches to familiar subject matter, mixing in plenty of new school influence with his own smooth, polished delivery. It's clear he's grown up in the studio, and he lacks all of the rough edges that his contemporaries struggle with as they hone their craft in the infancy of their recording careers. Lil Skies has been doing this all his life, and Life Of A Dark Rose is proof. Hopefully it's just the tip of the iceberg for the promising talent.
Stream Lil Skies' Life Of A Dark Horse below.