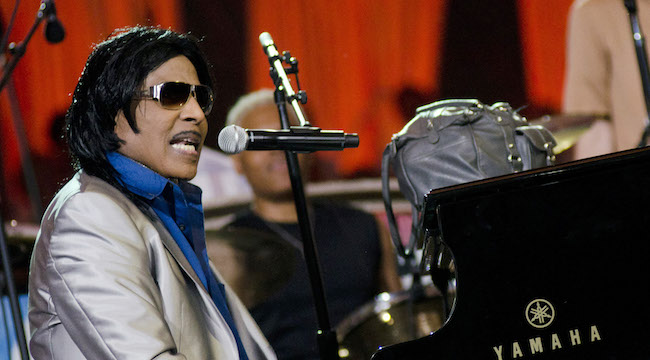 With the death of New Orleans piano legend Fats Domino at 89 earlier this week, the number of original rock and roll pioneers has dwindled to almost none. One of the few remaining original rockers, Little Richard, is also getting up there in age, but graciously agreed to an interview with Rolling Stone's Andy Greene to remember his late colleague. In the short interview, Richard pays Fats the ultimate compliment — "He could play anything" — and reminisces on their interactions over the years.
Richard remembers his first memory of hearing Domino's music, describes the influence Domino had on his own playing, and shares some of his favorite Fats Domino tunes from the fellow piano man's extensive catalog.
Tell me your first memory of ever hearing Fats Domino's music.

Oh, I love…When I was a boy in Macon, Georgia, Fats used to come here. He was managed by a guy I can't quite recall, but he used to play at a club in Macon. I didn't have the money to go see him, so I used to try and sneak in because I loved him. I loved his piano playing. I love his music, period.

What was special and unique about his piano playing?

Well, he was just a little, short guy with little, biddy hands, and he could make a piano talk. He could play anything. He's not just a banger. He could really play for real, you know?

How did he influence you as a piano player and as a singer?

He influenced me as an entertainer, period. I loved him. I loved his kids, his wife, I loved all of them. He was a good man. We were just real close friends, real close. His daughter would call me every weekend. I would talk to Fats and he would say he wanted to cook dinner for me. He wanted to cook gumbo.

What songs of his were your favorite?

I loved all of his songs. I used to like "The Fat Man," "Goin' Home," "Blueberry Hill." I loved all of Fats' songs. I don't know nothin' he made that I didn't like.
With Fats' death, Little Richard considers himself and Jerry Lee Lewis to be the last of the original rock creators left. Let's cherish them while they remain.