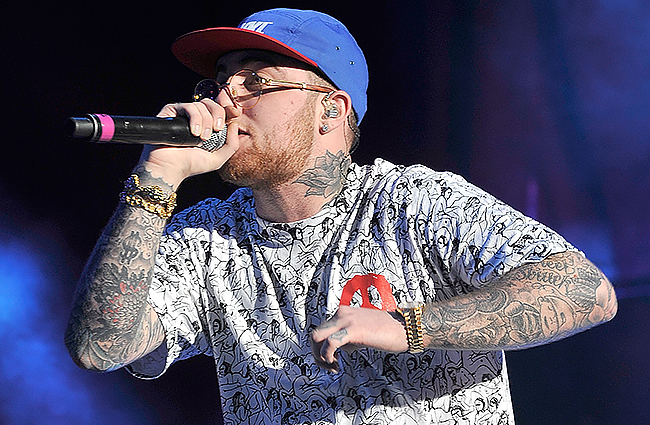 "Ain't nothing but a brand name."
The hook on Mac Miller's latest single, "Brand Name," perfectly sums up the Pittsburgh rapper's toughest career obstacle: To the average hip-hop fan, Mac Miller wasn't a skilled rapper/producer/artist — he was a burnt-out frat rapper trying to stay relevant with his Jackass wannabe show on MTV. Fast forward to the release of his third studio release, GO:OD AM. The days of battling the "post-high school troublemaker" image are just about over.
In a five-year span, Mac Miller has been able to shake that image and craft his own lane. But that path was far from linear, navigating through some classic mixtapes, album flops, addiction, depression, and everything in between. He's emerged with his own style. In his early mixtape days, Mac's style was the equivalent of a rap starter pack for kids; sugary instrumentals behind bars that rarely went beyond the "who you know that's iller than Mac Miller" message. On tracks like "Nikes on my Feet" and "The Spins," Mac had an uncanny ability to connect with his niche audience of college-age party-goers. He captured the essence of the party, the hangover, and everything in between like no other backpack rapper could. This isn't exactly high-brow music, but Mac had real musical talent – a keen ear for beats, a strong enough flow and a relatable presence on the mic.
Mac was building a strong following with this indulgent style, but at a cost. From the same high school as Wiz Khalifa, Miller became known as a white knock-off of his Pittsburgh peer to outside observers. He mirrored Wiz's "Taylor Gang" crew with his "Most Dope" brand. Mac would even go on a nationwide college campus tour with Wiz, as if he wanted to flaunt and exploit every stereotype on one cross-country trip.
Mac's popularity screamed for a full studio album, which Mac delivered. His independent debut, Blue Slide Park, was essentially a polished, (slightly) higher-budget mash of his mixtapes, anchored down by stricter sampling restrictions and wiped clean of the carefree rawness of his mixtapes.
In spite of his impressive sales — it debuted No. 1 as an independent release — BSP was poorly received by critics, earning a Metascore of 58. For the first time, Mac had failed — and it hit him hard. He took the industry's rejection personally, turning to drugs to deal with his depression. It wasn't just the music that didn't vibe with hip-hop heads — it was Mac Miller, the person, that no one wanted to associate with, as he told Billboard:
"A lot of the reviews were more on me as a person. To be honest, that was even worse. You're 19, you're so excited to put out your first album, you put it out—and no one has any respect for you or for what you did."
At the risk of fading into irrelevancy, Mac had to make serious changes to his style and image to ever be taken as a serious artist. Keeping up his frantic pace, his Macadelic mixtape dropped in the spring of 2012, exposing the drug-induced haze he had put himself in after the failure of BSP. Gone were pregame anthems, in were airy, dreary beats and introspective lyrical content. Mac stopped rapping about how much fun he was having and started to question his own identity. "Sometimes I wonder who the f*ck I am," he bluntly asks in the opening bars of "The Question." Mac wiped the slate clean, focusing more on what he wanted to make than what his fans were looking to play at house parties. 
This 180 degree change also had some fallout; Mac fell out of the more lucrative pop-rap scene and lost a fair share of fans in the process. For Mac, however, staying true to himself was the only way he was going to stand the test of time in the vicious music industry. The tape helped Miller gain a footing in the underground scene, but he would take the full plunge by moving to Los Angeles, where he distanced himself from the "old Mac" while making connections with the blossoming West Coast rap scene. He allied with members of Odd Future and Top Dawg Entertainment, along with similar-minded young emcees such as Vince Staples and Casey Veggies — many of which would land on his sophomore LP.
Watching Movies with the Sound Off mirrored the tone of Macadelic, but with significant developments in production and content. Mac produced most of his own tracks for this album, developing a slew of rich, cashmere-textured beats that captured the quirky, darker direction he was going in. As much progress as Mac was making, he was still a ways off from coming into his own. He delivered in a monotone, as if he was unsure if his bars could hold up as well as he thought. His sound had made the transition to the underground, but his monotone started to sound more like Earl Sweatshirt than Mac Miller.
After WMWTSO, Mac took the volume approach to further crafting his sound. Before coming upon GO:OD AM, Mac created nine albums for himself while dropping another 24-song mixtape, Faces. When he wasn't playing to the camera on his MTV show, he was locked in the studio, often for days at a time, as he told Grantland:
"Every different project was just a state of mind I was in, and some of them were made over months, some were in four days. It wasn't like I kept trying and missing; it was almost like I was pushing off making the album I knew I needed to make. At that time, I just wanted to be weird and make sh*t without any stipulations."
Mac's compulsion to find the perfect sound, combined with his troublesome drug use, forced him to Rick Rubin's house to detox. Overcoming his drug problem helped produce some of Mac's densest, most compelling tracks to date. On "Perfect Circle/God Speed," he depicts how his mother and friends would react to an overdose, before questioning the afterlife on "Ascension."
On GO:OD AM, Mac checked off all the remaining boxes that held back Watching Movies with the Sound Off. His delivery is as confident and hard-hitting as it's ever been. Using more jazz sounds and upbeat instrumentals, Mac seems to be out of his drug haze, more self-aware than ever. He is quick to remind everyone that he is "on the top of his game" on "When in Rome," which is essentially a more mature version of the Blue Slide Park single "Smile Back."
Mac even (finally) addresses the ridiculous comparisons to Eminem — while acknowledging his tendency to escape from public eye for years at a time because of his race with some witty wordplay:
PA's baby, I ain't been to PA lately
See, I left, they call me shady
I'm a white rapper, they always call me shady
Got no idea what I'm contemplatin', I guess
With GO:OD AM, Mac Miller is now embracing his new, balanced life and the little things that come along with it — even something as small as waking up at a decent hour. And at just 23 years old, he is just hitting his stride. He narrowly avoided career suicide, escaping the jaws of hip-hop irrelevancy by constantly evolving.