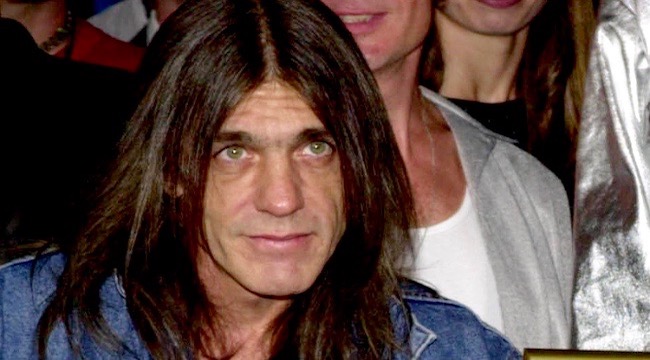 Malcolm Young, the imitable rhythm guitarist and co-founder of AC/DC, has died. He was 64 years old. The band announced the news with a heartfelt message posted to their website.
Today it is with deep heartfelt sadness that AC/DC has to announce the passing of Malcolm Young. Malcolm, along with Angus, was the founder and creator of AC/DC. With enormous dedication and commitment he was the driving force behind the band. As a guitarist, songwriter and visionary he was a perfectionist and a unique man. He always stuck to his guns and did and said exactly what he wanted.

He took great pride in all that he endeavored. His loyalty to the fans was unsurpassed. As his brother it is hard to express in words what he has meant to me during my life, the bond we had was unique and very special. He leaves behind an enormous legacy that will live on forever.

Malcolm, job well done.
As AC/DC's rhythm guitarist, Malcolm provided the slashing, atomic riffage that propelled all-time classics like "Highway To Hell," "Back In Black," "Thunderstruck," "You Shook Me All Night Long," and "Dirty Deeds Done Dirt Cheap" into the stratosphere. Onstage, he was the rock, the steady hand that allowed his schoolboy outfit-clad brother Angus, and frontmen Brian Jones and Bon Scott to cavort and wail in front of millions across the world throughout his illustrious career.
Over the past three years, Young had withdrawn from the public eye while battling dementia. The band carried on, recording another album, Rock Or Bust, while embarking on several world tours with Malcolm's nephew Stevie filling in on guitar duties in his absence. "Mal always wanted the music to go on," singer Brian Johnson told Rolling Stone in 2014. "And I'm not going to say no."
RIP to an icon. We offer our sincerest condolences to his family, friends and many, many fans.