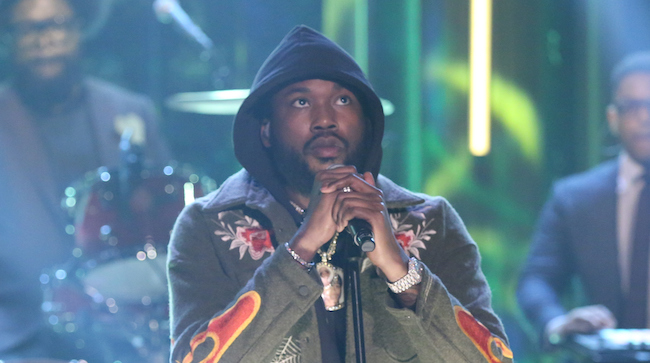 When The Notorious BIG needed to address the elephant in the room on his sophomore album, Life After Death, he chose the song "What's Beef?" to smother lingering rumors that he'd been involved in the death of his onetime friend and recent rival Tupac. Now, over 20 years later, Meek Mill returned to the beat that Biggie made famous to lay his own past to rest, with the help of his label head Rick Ross and staunch supporter Jay-Z on "What's Free?" a standout from his new album, Championships.
Over a sample of Biggie's 1997 classic, Meek, Jay, and Ross tackle some of the biggest inequities in American society, from Meek's recent ordeal with prison system to the longstanding cultural effects leftover from America's slavery era such as the poor nutrition passed down through the generations of Black Americans who only ate scraps and learned to make do (Jay's verse has a great reference to chitterlings, the traditional food made of cleaned pig intestines, the remnants that would ordinarily have been thrown out after the animals were slaughtered for bacon and pork chops). Meek even cheekily references the original song's subject matter, slyly referencing his verbal duel with Drake from a few years ago at the end of his verse: "Is we beefin' or rappin', I might just pop up with Drizzy like, 'What's Free?'"
"What's Free?" isn't the only Championships song to reference a hip-hop classic; its immediate successor in the track listing, "Respect The Game," features a sample of Jay-Z's 1996 Reasonable Doubt single, "Dead Presidents."
Championships is out now via Atlantic. Get it here.
Meek Mill is a Warner Music artist. Uproxx is an independent subsidiary of Warner Music.