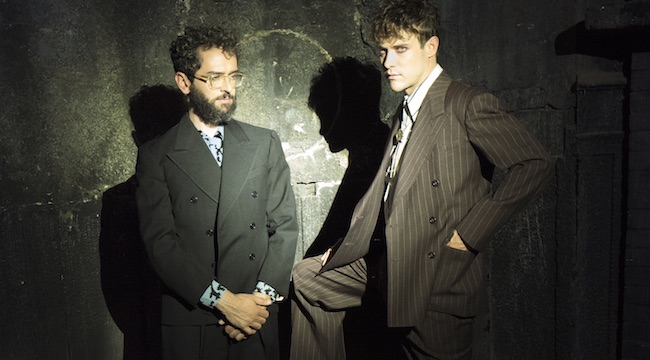 "I'm going to die," Andrew VanWyngarden croaks into the microphone. Actually, the MGMT frontman probably just needs a bowl of chicken soup, a sofa to crash on, and some Breaking Bad on Netflix. But for now, VanWyngarden is stuck suffering with a wicked cold inside of a Brooklyn rehearsal space, where he and longtime musical partner Ben Goldwasser are running through songs with their touring band from the forthcoming Little Dark Age, MGMT's first album in four years, due February 9.
It's mid-January, about a month before the album is going to be released, and VanWyngarden and Goldwasser have reunited for two weeks in preparation for a tour and the general grind of being part of an active band again. A lot is at stake for MGMT at the moment. Ever since the foreboding, catchy, '80s goth-tinged title track was released as the record's first single — in the chorus, VanWyngarden warns, "just know that if you hide / it doesn't go away" — a "comeback" narrative has coalesced around Little Dark Age.
The buzz suggests that MGMT is back to making insistent pop in the vein of 2007's Oracular Spectacular, the platinum-selling debut highlighted by a trio of irresistible hipster-dude party favorites — "Time To Pretend," "Kids," and "Electric Feel" — that have accumulated close to a half-billion streams combined on Spotify. After that, the narrative insists, MGMT went off the deep end into psych-rock self-indulgence. A recent Rolling Stone preview of Little Dark Age mentions 2010's Congratulations and 2013's MGMT just once, and only in order to dismiss them as "disappointing experimental albums" that "alienated fans, critics and even their record label."
The perception that Little Dark Age presents a chastened MGMT — a duo that has out of necessity returned to pop after a long, drug-fueled wilderness period — will no doubt be emboldened once the public hears the song the label is most excited about, "Me and Michael." Even more than the title track, "Me and Michael" finds VanWyngarden and Goldwasser back in the "triumphant pop anthem" business, riding a sultry bassline to the sort of creamy, shamelessly huge chorus that is normally associated with the nostalgic synth-pop confections of M83 or even Carly Rae Jepsen.
Of course, the stubbornly contrarian members of MGMT — now both in their mid-30s, and a long way from the makeup-smeared Lord Of The Flies kids on the cover of Oracular Spectacular — unsurprisingly take issue with this reductive read on their fourth album. For starters, if you dig past the most immediate bangers (which also include another early single, "When You Die," a collaboration with polarizing psych-pop weirdo Ariel Pink) strangeness abounds on Little Dark Age.
While Goldwasser claims that he hasn't taken psychedelics since the sessions for the self-titled album, VanWyngarden still imbibes when he's writing lyrics. Two drug-influenced songs made it on the record's darker, more effed-up side two — "James," an off-kilter pop-soul tribute to long-time tour guitarist James Richardson that sounds like Sly Stone's There's A Riot Goin' On as performed by Ween; and "Hand It Over," a Trump-inspired dirge that to VanWyngarden's frazzled mind sounded like Al Green when he wrote it.
"I don't think we would have as strong of a fanbase now if we hadn't put out Congratulations the way that we did," Goldwasser argued earlier that day over brunch at a diner down the street from the band's rehearsal space. "A big part of why they've stuck it out with us is because they feel like we really did what we wanted."
"That's how we are with other bands," VanWyngarden added. "We always seek out the records that are trashed by the critics. They become the cult classics." Nevertheless, they concede that Little Dark Age is "more light" than the chaotic, chorus-deficient MGMT, addressing that album's concerns about the mind-warping dangers of technology from a less paranoid, and more sardonic, perspective.
The two songs MGMT is currently rehearsing are among the funniest on the record: "TSLAMP," or "Time Spent Looking At My Phone," is a Spanish-guitar-accented, Pure Comedy-like skewering of widespread gadget addiction; and "She Works Out Too Much," a sinuously funky treatise on the banalities of Tinder.
"I think we're joking at ourselves for being a little out of touch," VanWyngarden concluded. "We're in our mid-30s and we collect records and we're pretty out of touch with what's popular."
Even as an avowed defender of Congratulations and MGMT, I can't deny that Little Dark Age is the most likable album MGMT has made in a decade. But the perversity that has prevented VanWyngarden and Goldwasser from maintaining the success of Oracular Spectacular — and fostered loyalty among Congratulations stans like yours truly — thankfully remains.
***
As I've listened compulsively for the past month to Little Dark Age, it occurred to me that MGMT essentially is the millennial version of Steely Dan. (This is a compliment.)
You have two guys who meet at a private college on the east coast. They are interested in hipster culture from a bygone era, which makes them misfits. This otherness bonds them, as do their similarly absurd, occasionally obtuse senses of humor. But this humor won't always be apparent in their songs because the music they make isn't outwardly funny — it might even strike some as pretentious. Nevertheless, an unerring pop sense guides everything they do, even on songs that appear to openly defy the rules of pop.
Ultimately, they are most at home in the studio — the rigors, inconveniences, and musical compromises inherent to road life simply don't suit them. Though Steely Dan eventually got over that. MGMT, meanwhile, is still trying.
You know what seems like it would be cool but is actually boring? Watching a band rehearse. But even by band-rehearsal standards, watching MGMT rehearse is incredibly boring. Both VanWyngarden and Goldwasser are self-described perfectionists, and you can see it in how they pore over every sound while running through "She Works Out Too Much." Over the course of an hour they play the first 30 seconds of the song endlessly. Eventually, Andrew and Ben break off to work with different bandmates — VanWyngarden coaches drummer Will Berman on how to capture the precise hi-hat sound that's on the record, while Goldwasser huddles with Richardson as he tries to locate the exact right keyboard tone for the song's spooky synth hook, hitting the same key over and over for what feels like an eternity.
It might seem like drudgery to an outsider, but MGMT's co-pilots are in their element. If not for VanWyngarden's ill health, this might very well be the epitome of a good time for introverted musicians preoccupied with sonic minutia. Touring, on the other hand, is definitely outside of MGMT's comfort zone.
When asked at brunch if they're looking forward to returning to the road, VanWyngarden managed to shake his head "yes" and "no" simultaneously. A homebody who bought a house in Rockaway Beach so he can have access to the city while still being able to surf, VanWyngarden has grown attached to living a quiet, sheltered life.
"I'm into cleaning records and hearing a pop and being like, 'Oh, I have to clean that again,'" he said.
In conversation, Goldwasser is generally more amenable than VanWyngarden, who can be intense and sometimes distracted. (When asked about his relationship with Goldwasser, he instead remarked on how the capital S in the restaurant's logo looks like a capital L. "I'm so spacy right now, man," he demurred.) But Goldwasser cultivates the same guarded record-nerd vibe. A common goal for MGMT's upcoming tour, which launches in March, is for VanWyngarden and Goldwasser to focus less on making the band sound right and more on, you know, enjoying themselves.
"People aren't going to notice whether we're covering all the parts or not. People are going to notice if we're too busy executing things technically," Goldwasser reasoned. "We just look like we're not engaging the audience, so I think we're trying to lighten our load, as far as what we're actually playing, so that we look like we're having fun on stage."
So that we look like we're having fun on stage. Donald Fagen couldn't have said it better.
***
In spite of their early image as shirtless, tribal hedonists, the men of MGMT have always been uncomfortable rock stars. They bonded as freshmen at Wesleyan University, brought together by a shared appreciation of music and "random" jokes. Both came from uncool places — VanWyngarden hails from Memphis, Goldwasser from upstate New York — and they marveled at classmates who entered college with impeccable, grown-up tastes in punk rock and designer jeans. Later, when they moved to Brooklyn in the wake of the Meet Me In Bathroom generation's rise and fall, they once again felt out of place.
"I got interviewed for that," VanWyngarden said, referencing Lizzy Goodman's 2017 oral history of the '00s New York rock scene. "I don't know why. All my answers were like, 'Yeah, I didn't know anything about that.' We weren't really fans of that stuff. We were getting together and listening to King Crimson and Sonic Youth and Talking Heads, bands our parents liked. 'Time To Pretend' was us kind of making a joke of rock stars. At Wesleyan, we would wear sunglasses and fur jackets and pose like rock stars as a complete ironic thing."
"We were victims of our own irony in a way," Goldwasser observed. "When nobody was paying attention to our band and we were doing that stuff, it was obviously a funny joke. Then, as soon as we actually started getting attention, people just assumed that that was how we wanted to present ourselves and that it wasn't a joke."
But by the time of Congratulations, MGMT really were rock stars, and they took advantage of the spoils, setting up camp in Malibu and spending their days munching on psychedelic mushrooms and gourmet meals prepared by their very own in-house chef, Vicki, as they bashed out trippy 12-minute songs about surfing in Siberia. The resulting album confounded many listeners, though if you shrugged it off at the time, I suggest revisiting it: Congratulations has aged well, thanks to an abundance of unpredictable songs bursting with fresh ideas and new surprises.
"That was definitely when we were going for it, true California '70s style," VanWyngarden remembered fondly.
The making of MGMT was another blast — they were both obsessed with drum machines, which is evidenced in the album's clanging, beat-heavy sound. Instead of coming to the studio with songs, VanWyngarden and Goldwasser composed via rambling, daffy improvisations.
"We thought it was a funny record," Goldwasser said. "There were lots of moments on it that, to us, were obviously meant to be tongue-in-cheek. Or the music itself had lighthearted moments. [But] it was received as just this impenetrably dark album. That's not how we were feeling when we made the music. We were having a lot of fun."
Little Dark Age, on the other hand, was not fun to make– not at first anyway. Writing began in 2015 and dragged on for a year with little useable music to show for it. With VanWyngarden living in New York and Goldwasser now situated in Los Angeles, they turned away from the looseness of Congratulations and MGMT and reverted to the creative method for Oracular Spectacular, where each member would come to their songwriting sessions with fully formed ideas, or at least a strong starting point, for new songs.
But "the sessions didn't go anywhere," Goldwasser said. "Things were getting pretty dark. We hadn't really had any epiphanies yet or anything."
The problem was a general lack of confidence, which has stymied the duo throughout their partnership. "We had that when we were writing our most popular songs," VanWyngarden said. "We were like, 'Oh, this is so stupid.' It's not like the songs were a joke, we were just like, 'This is bullshit.' Most of my song ideas, when I'm trying stuff at home, the word 'bullshit' is in the title."
When VanWyngarden came up with the melody for Little Dark Age's most effervescent track, "Me And Michael," his immediate reaction was to storm out of the room in frustration. "I was trying to be really optimistic," Goldwasser recalled. "I was like, 'This makes sense, we should keep working on it.' Then Andrew came back and started adding to it. By the end of the day, we were like, 'Wait a minute, I think we actually wrote a good song.'"
A turning point during the Little Dark Age sessions was when former Chairlift member Patrick Wimberly came on board as a producer. An old friend from his days as a fellow traveler in Brooklyn's mid-'00s music scene who has subsequently worked with Beyonce, Tune-Yards, and Blood Orange, Wimberly acted as a buffer and sounding board for MGMT's two uncertain halves.
"A lot of my work on that record was just acting as an enabler for them, getting excited when they had good ideas and just encouraging them to go down the paths that seemed promising," said Wimberly, who called VanWyngarden and Goldwasser "geniuses."
"I've seen them, just by sitting down and jamming, come up with these complex, beautiful chord changes, and it seemed like nobody even wrote them, they just happened," he said. "I think they've been playing together so long that they can do that. It's kind of freakish."
But what really crystallized the album was the 2016 presidential election, which VanWyngarden likens to 9/11 — a disaster that's traumatic but also oddly exhilarating, because it instantly wipes away anything that's less than essential.
"I think a lot of the things that we'd been hung up on, like questions of how do you be creative, what does it mean for us to express ourselves right now, what is an MGMT album in 2017 — all these dumb questions revealed themselves as dumb questions," Goldwasser said. "We wanted to make songs that reflected how we were feeling in the moment, and we wanted to make something that was fun because we were in bad moods."
A fun record fueled by negativity — a perfect contrarian move for a contrarian band.
So is finding enjoyment in the midst of a tedious rehearsal. Taking a break from "She Works Out Too Much" and "TSLAMP," VanWyngarden starts plucking out a familiar classic-rock riff. Soon, the rest of the band falls in behind him, and suddenly MGMT is playing a semi-credible wedding-band cover of Eric Clapton's "Wonderful Tonight." It's funny and terrible, just like the world outside. And, for a moment, a miracle occurs: MGMT looks like it's having actual fun on stage.
Little Dark Age is out 2/9. Pre-order it here.