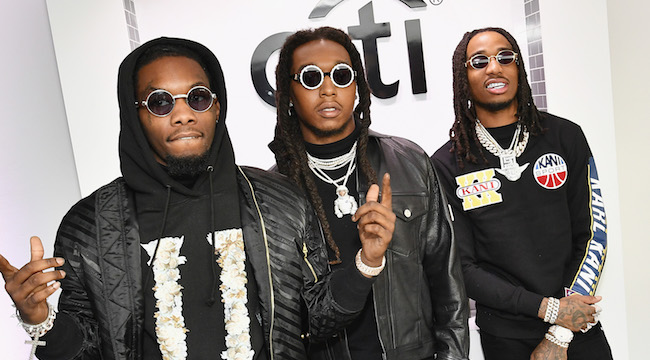 Thanks to a run of high-energy singles and guest appearances in the lead-up to Culture II's release, Migos are now two-for-two with No. 1 albums, according to Billboard.
Driven by "Stir Fry" and "Motor Sport," as well as some timely placements in ads for every brand from Apple to the NBA, Migos' second album will have sold between 180,000 and 200,000 equivalent units in its first week ending February 1st, good enough to take the top spot on Billboard's Top 200 Albums chart. The group's previous album, Culture, accomplished the same feat in 2017 (almost to the day) with 131,000 units sold.
Migos' profile both as a group and as solo artists has exploded since then, with Quavo and Offset both releasing collaborative albums with other popular rappers and Takeoff currently working on his own with fellow Creative Control signee Lil Yachty. The group will join elite company as only the fifth(!) rap group in the history of the charts to earn multiple No. 1s. Previously, only Beastie Boys (four No. 1s between 1987 and 2004), A Tribe Called Quest (two, in 1996 and 2016), Bone Thugs-N-Harmony (two, in 1995 and 1997) and D12 (two, in 2001 and 2004) had ever accomplished that feat.
So while Migos didn't take home any hardware at Sunday's Grammy Awards ceremony (they were nominated for Best Rap Album, an award that instead went to Kendrick Lamar for DAMN.), they have plenty to celebrate. Knowing them, they do so by getting right back to work.