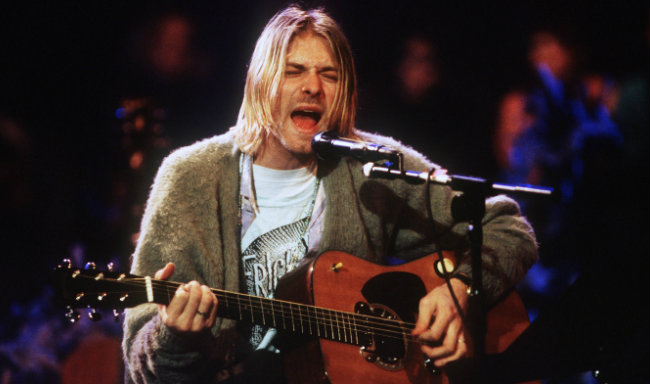 Montage of Heck: The Home Recordings is set to be released on November 13. And there's no doubt that the project composed of unreleased Kurt Cobain demos feels a bit icky. After all, these unfinished songs went unfinished for a reason, and the person who kept them from the public eye is no longer around to protest.
Still, Montage of Heck director Brett Morgen thinks that the release is necessary and will further explain Cobain's process and mindset to fans. He defended the release in an interview with Rolling Stone.
"The morality of putting out unfinished work — I know that is a criticism that will be lobbied against the project. But just like the Bootleg Series furthers your understanding of Bob Dylan's process, I find that Montage of Heck: The Home Recordings furthers not just our understanding of his process but represents yet another angle, another side of Kurt — an artistic outlet that he was not necessarily able to work with in the context of a three-piece band. It's not scraps and discarded, insignificant material. It really is furthering our understanding of one of the most significant artists of our time."
Morgen also revealed the track list for the album, which you can check out below.
Montage of Heck: The Home Recordings:
01 The Yodel Song
02 Been a Son (Early Demo)
03 What More Can I Say
04 1988 Capitol Lake Jam Commercial
05 The Happy Guitar
06 Montage of Kurt
07 Beans
08 Burn the Rain
09 Clean Up Before She Comes (Early Demo)
10 Reverb Experiment
11 Montage of Kurt II
12 Rehash
13 You Can't Change Me/Burn My Britches/Something in the Way (Early Demo)
14 Scoff (Early Demo)
15 Aberdeen
16 Bright Smile
17 Underground Celebritism
18 Retreat
19 Desire
20 And I Love Her
21 Sea Monkeys
22 Sappy (Early Demo)
23 Letters to Frances
24 Scream
25 Frances Farmer Will Have Her Revenge on Seattle (Demo)
26 Kurt Ambiance
27 She Only Lies
28 Kurt Audio Collage
29 Poison's Gone
30 Rhesus Monkey
31 Do Re Mi (Medley)
For more Cobain demos, check out this recording of "Sappy," which is set to be released on a 7″ later this year.
(Via Pitchfork)