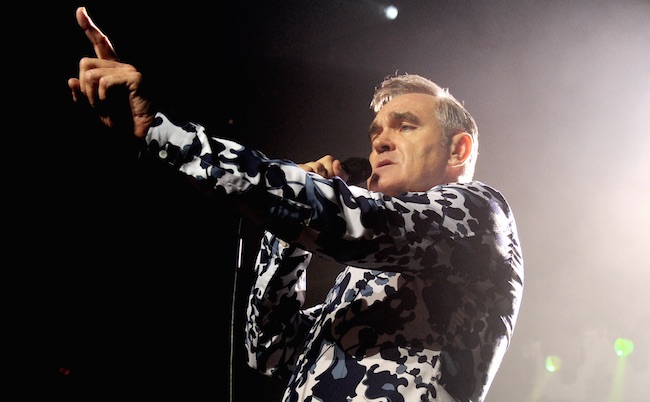 Morrissey has voiced quite a few strong opinions this summer, including his dislike of Sam Smith and Ed Sheeran and his wild theory that President Obama is too "white inside." Showing no signs of slowing down, The Smiths singer has opened his mouth once again and let the thoughts floweth. This time, his biting words are directed toward our friends down under.
In July, the Australian government announced they'd be culling about two million feral cats. By reducing the feral cat population, the country is hoping it can save a variety of plant and animal species that are at risk of extinction. Morrissey, who recently insisted that the venue of one of his New York concerts "go vegan" for one night, is not pleased by Australia's new measure, even going so far as to call its leaders "idiots" in an official statement:
"We all know that the idiots rule the Earth, but this is taking idiocy just too far. The cats (who keep the rodent population under control) will be killed in a ferocious manner, using Compound 10/80, which is a gut-wrenching poison of the most unimaginable and lengthy horror.

"The people of Australia would never agree to this – but of course they will not be consulted, because the Australian government as ruled by Tony Abbott is essentially a committee of sheep-farmers who have zero concerns about animal welfare or animal respect. The cats are, in fact, 2 million smaller versions of Cecil The Lion."
Perhaps he'll be bringing back those t-shirts that read "Be kind to animals or I'll kill you"?
(Via ContactMusic)