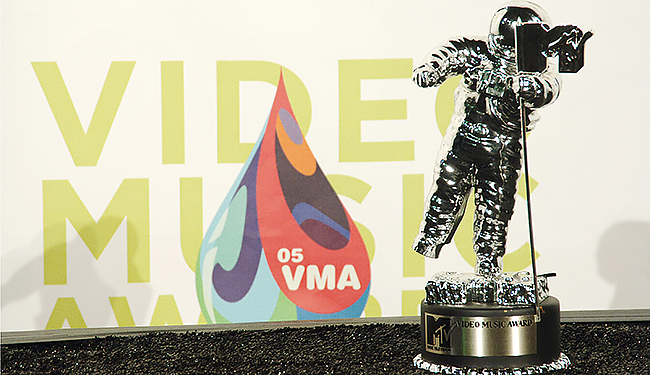 The nominees for the MTV Video Music Awards were unveiled on Tuesday. The VMAs were once the edgy alternative to the Grammys, but, by this point, they're as entrenched as a cultural institution as the Grammys are. There have been a lot of significant moments in the history of the VMAs, and they don't all involve Miley Cyrus, either. However, throughout the years, the VMAs have also had a few short-lived, strange award categories that, in retrospect, feel odd, if not downright silly. Here are five award categories that have been forgotten, for better or worse. Mostly for better.
Best Artist Website
When: 1999
Winner: Red Hot Chili Peppers
At this point, the internet is ingrained in all of our lives. Music basically exists on the internet and nowhere else, with all the streaming sites and artist Twitters and Instagrams and so on. Back in 1999, though, the internet was still fairly new to a lot of people, and MTV, in an attempt to remain on the vanguard, decided to reward one band for having the best artist website. At the time, having a website was not a given, but the likes of David Bowie, Sheryl Crow, and Massive Attack were among the nominees. In the end, though, Red Hot Chili Peppers came away with the win. Or, rather, their web team did. This was the only time Best Artist Website was given out. Perhaps, in a post-Y2K world, it felt silly to keep doing it.
Quadruple Threat of the Year
When: 2007
Winner: Justin Timberlake
We've all heard of triple threats, but MTV decided to hand out a trophy in 2007 to the Quadruple Threat of the Year. What constituted one of these "quadruple threats?" According to Wikipedia, it was all about "who excelled in at least three other areas beside their music career, such as acting, entrepreneurship, and activism, among others." Folks like Bono, Beyonce, and Kanye West got nominations, but it was Justin Timberlake who took home this award. It was before The Love Guru came out. People can be forgiven for rewarding him for his acting career at this point. While this is an award that could have, theoretically, continued, it also does feel kind of clunky.
Best Post-Modern Video
When: 1989-1990
Winners: R.E.M., "Orange Crush" (1989); Sinead O'Connor, "Nothing Compares 2 U" (1990)
What, exactly, is a "post-modern video?" Moe from The Simpsons would tell you it means "weird for the sake of weird." It certainly is a vague concept to reward, but MTV did it twice, in 1989 and 1990. R.E.M. won the first one for their video for "Orange Crush," beating bands such as The Cure, Love and Rockets, and Siouxsie and The Banshees. Then, Sinead O'Connor's "Nothing Compares 2 U" won in 1990. So, apparently, just singing into a camera is post-modern? Perhaps feeling that this was, indeed, a hard to define category, it was replaced by Best Alternative Video, which was discontinued in its own right after 1998.
Best Video Game Soundtrack
When: 2004-2006
Winners: Tony Hawk's Underground (2004); Dance Dance Revolution Extreme (2005); Marc Ecko's Getting Up: Contents Under Pressure (2006)
For some reason, for three-straight years, the MTV Video Music Awards decided to hand out an award for video game music. Granted, a lot of video games have good music in them, but it also felt like a ploy to try and get gamers interested in the VMAs during the mid-2000s. The nominees were mostly sports and racing games, but then something called Marc Ecko's Getting Up: Contents Under Pressure won in 2006. Apparently, that's a graffiti video game. In 2006, MTV also handed out a Best Video Game Score award. It went to The Elder Scrolls IV: Oblivion. It was a weird time for MTV.
Ringtone of the Year
When: 2006
Winners: Fort Minor, "Where'd You Go?"
If you want further proof of how bizarre the VMAs were in 2006, they also celebrated the Ringtone of the Year. No, they didn't reward the ringtones that come with your phone, like "Marimba" or whatever. These were songs that, apparently, were quite liked as ringtones? The Black Eyed Peas' "My Humps," Bubba Sparxxx's "Ms. New Booty," Nelly's "Grillz," and Kanye West's "Gold Digger" are got nominated, but the winner was "Where'd You Go?" by Fort Minor. It's not exactly a memorable song, but nobody can take Ringtone of the Year away from it.