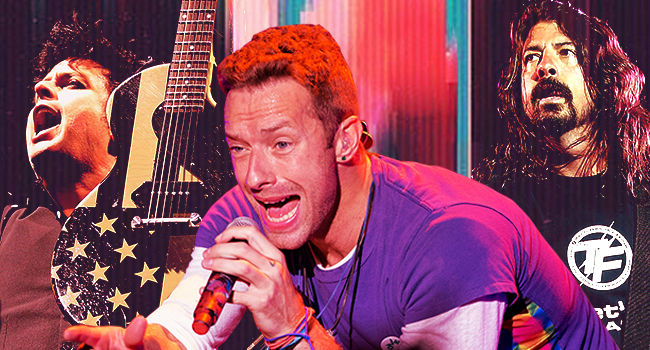 Despite many loud protests to the contrary, rock is not dead in 2017. Is it at the forefront of popular culture? Not really. Do the sales come close to reaching the levels of either hip-hop or pop? Again, not so much. But look around and it's not hard to find a bevy of exciting newer bands making exciting new music. This week's The War On Drugs record A Deeper Understanding is a great example. Father John Misty's Pure Comedy is another excellent entry into the canon. Sheer Mag's Need To Feel Your Love is another. Or Waxahatchee's Out Of The Storm, or Jay Som's Everybody Works.
In terms of diversity of sound, and even more crucially, diversity of gender and background, it's easy to argue that we're living through a tremendously welcoming period for new rock music. It's actually that very reality that makes the list of nominees in the rock categories at this year's VMA's especially frustrating.
Check out the full list of nominees for Best Rock Video.
Coldplay — "A Head Full Of Dreams"
Fall Out Boy — "Young And Menace"
Twenty One Pilots — "Heavydirtysoul"
Green Day — "Bang Bang"
Foo Fighters — "Run"
Do you notice anything… off about that list? How about the fact that besides Twenty One Pilots, every single nominee has been grinding it out on the circuit for 15 years or more. How about the fact that there isn't a single woman nominated, and moreover, not a single person of color? From the looks of this list, the "tastemakers" at MTV would have you believe that rock remains the purview of middle-aged white dudes, and in 2017, that couldn't be further from the truth.
Just to put things into perspective, Green Day received their first VMA nomination all the way back in 1994. Foo Fighters won their first Moon Man back in 1998. Coldplay got their first look in 2001 and Fall Out Boy got the MTV2 prize back in 2005. Good thing for Twenty One Pilots that Bruce Springsteen or U2 didn't drop a project this year or who knows what might've happened.
I'm not out here to denigrate the nominees as they're assembled here. I went and saw Foo Fighters at a small club in Chicago earlier this month and they blew my mind away for three and a half hour straight. Green Day were a formative band in my earliest musical upbringing, and I will more than happily defend Coldplay any day and any time. That being said, it's a little galling to see other categories like Best Hip-Hop and Best Pop filled out with artists who accurately reflect the current age. And do you see a single rock representative in the Best New Artist category? Of course not — but Miley Cyrus's little sister sure made the cut. (Although this Noah Cyrus song is a kinda fire pop song, so, again, no shade).

Rather than dig even slightly past the surface and give a shine to some other truly deserving, more vital and truly interesting artists creating rock in 2017, the VMAs continual shoot for retreads in the genre. Remember when the network was a tastemaker in the world of rock? Those days are long gone. To a certain extent, I understand the impulse. The showrunners want to fill their airwaves with recognized names to get people to tune in and excited, but at what cost? It seems like the risk would be worth the reward, though; if they took a chance on a band like Pinegrove, they could end up reclaiming that coveted tastemaker status. What a pivot that would be.
If the powers that be had nominated someone like Car Seat Headrest or Mitski, yes people wouldn't recognize them immediately, but maybe those groups would have reaped a few more fans by din of their presence. Then maybe you wouldn't get older groups like The Killers sh*tting on the latest generation saying things like, "There hasn't been anybody good enough" after them to warrant the buzz they and their cohorts like the White Stripes, The Strokes, or Kings Of Leon received at the outset of their careers. That simply can't be true. You don't think there's a group of kids out there in a garage somewhere, sitting on a riff as monstrous or catchy as "Mr. Brightside," or "Seven Nation Army," or "Sex On Fire" waiting to be discovered by a mass audience? C'mon now.
From their list of nominees, the MTV VMA's would have you believe that rock and roll is dying in 2017. Nothing could be further from the truth, but if something big doesn't change, it certainly seems like the VMAs themselves might be on their way out.