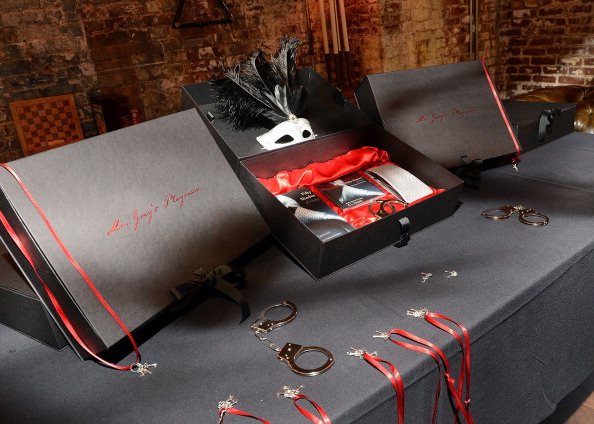 You don't have to wait much longer if you already need you need some sort of 50 Shades of Grey cinema fix. Of course there's Bound, the straight-to-DVD knock off that won our hearts, but there is plenty out there for those waiting for the real thing.
The newest bit brings some news about the soundtrack that will accompany the S&M-centric flick (and your weird sexual encounters for the next few years). Whereas some speculated the music would all be throbbing dubstep (that 'some' being me just now), such is not the case. Seems the soundtrack will actually be accentuated by some very big names. Digital Spy provided a look at the track listing:
1) Annie Lennox: "I Put a Spell On You"
2) Laura Welsh: "Undiscovered"
3) The Weeknd: "Earned It"
4) Jessie Ware: "Meet Me in the Middle"
5) Ellie Goulding: "Love Me Like You Do"
6) Beyoncé: "Haunted" (Michael Diamond Remix)
7) Sia: "Salted Wound"
8) The Rolling Stones: "Beast of Burden"
9) AWOLNATION: "I'm on Fire"
10) Beyoncé: "Crazy in Love (2014 Remix)"
11) Frank Sinatra: "Witchcraft"
12) Vaults: "Where You Belong"
13) Skylar Grey: "I Know You"
14) Danny Elfman: "Anna and Christian"
15) Danny Elfman: "Did That Hurt?"
Beyoncé is a no-brainer to end up on that soundtrack (twice no less), and Sia makes a lot of sense, too. Then you see Frank Sinatra and your mind instantly goes to him singing, "New York, New York," but then comes back to reality. Not an odd choice, but one that's going to cause a little confusion.
It's also  amazing to hear some new work from composer Danny Elfman, best known for being Tim Burton's go-to guy when it comes to amazing scores and soundtracks. Elfman obviously knew the source material, too. Just look at the title of that final track.
(H/T to TheWrap)