https://www.youtube.com/watch?v=ZPM9aAvOIg0
By now you get the idea of what Jimmy Kimmel is doing with his "Celebrities Read Mean Tweets" segment on his show. Every episode has a bevy of guests, so take that guest aside after some googling and, if they're game, put them on camera reading some mean things about themselves for our enjoyment.
The idea is that the celebrities above random internet chatter in the first place, or maybe they're not! The reaction is what makes it funny, right? And the fifth edition of the all-music Mean Tweets certainly proves that. Some major musicians get roasted online in this one, including Miley Cyrus, who flips off the camera after an internet rando called her a "dirty pirate hooker." I'm not sure if anyone involved knows that was an Anchorman reference, but alas. She was not happy.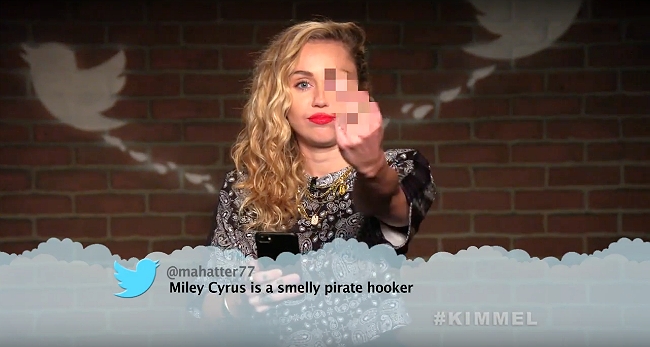 Musicians like Halsey, Imagine Dragons, Jason Derulo, Dualipa, ScHoolboy Q and even Elvis Costello make an appearance in this edition. And If you've ever wanted to see Luke Bryan call himself a "horse-toothed, dickies, air-humping doofus, Jimmy Kimmel has you covered. Other highlights include the Chainsmokers laughing off some improper human resources decisions.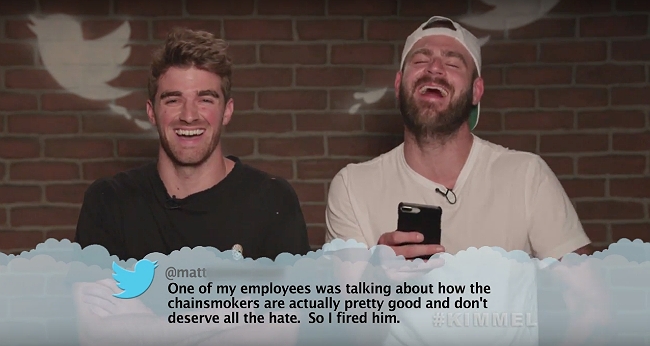 Gwen Stefani makes an appearance as well, though it's unclear which version of Gwen the tweeter was fed up with. In any event, she did her best Jim Halpert impression in her current form.
Pink took an extremely mean backhanded compliment well here.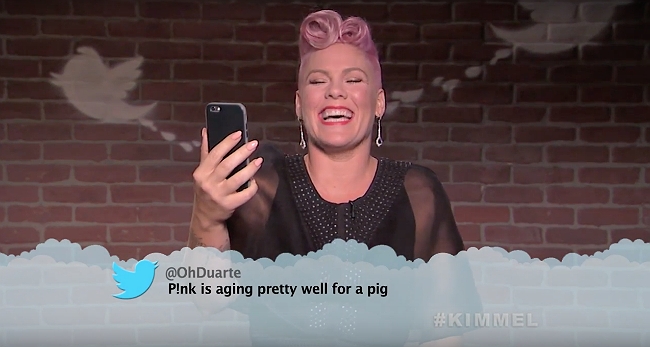 The video is, somehow, even better. She's an extremely good sport here. But one of the best moments is when Korn is compared to Nickelback, which they don't appreciate at all. The video then jumps directly to Nickelback reading their own mean tweet, which includes a pretty good joke to finish it off. It's all fun and games, of course. Except for maybe that Imagine Dragons fan suddenly on the Dole.