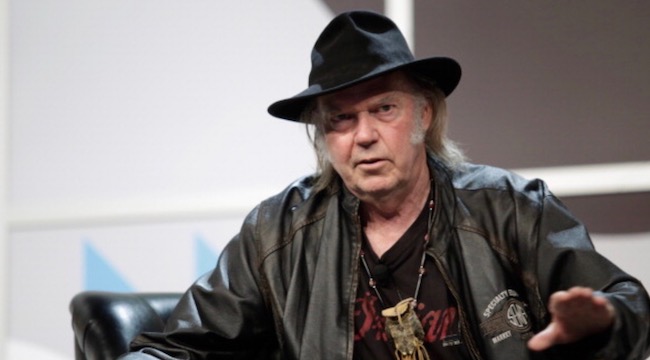 Neil Young has made more than a few ventures into the world of film throughout his long, prolific career. Who among us could ever forget his much-maligned 2003 effort Greendale? This year, the singer-songwriter stepped in front of the camera once again for a new film titled Paradox, directed by his girlfriend, acclaimed actress Daryl Hannah.
Though no one has seen it yet — Paradox is set to debut at this year's SXSW Film Festival — the description sounds downright bonkers.
"Time is fluid in this far-fetched, whimsical western tale of music and love. Somewhere in the future past, The Man In the Black Hat hides out between heists at an old stagecoach stop with Jail Time, the Particle Kid, and an odd band of outlaws. Mining the detritus of past civilizations, they wait… for the Silver Eagle, for the womenfolk, and for the full moon's magic to give rise to the music and make the spirits fly."
In addition to Young, the cast also includes his friend, an co-Farm Aid founder Willie Nelson. It also apparently comes with music from Neil Young and Promise of the Real, the singer's current backing band that features Nelson's sons Lukas and Micah.
While a specific premiere date hasn't been set, the SXSW Film Festival kicks off March 9.