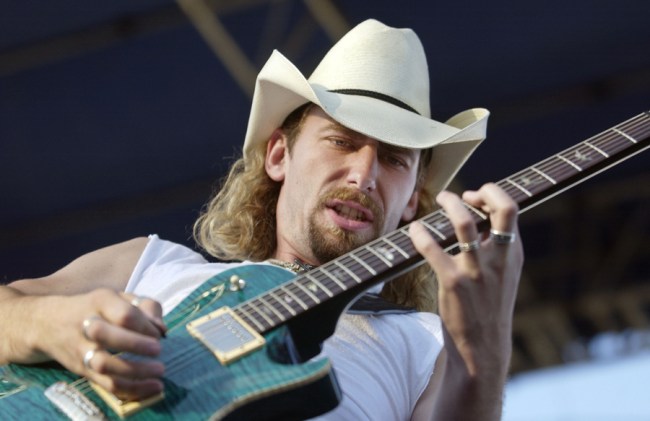 Thanks to the fine folks over at Reddit, I was greeted with something I never knew until today. Nickelback was forced to quit a show after two songs due to the crowd in Portugal pelting them with rocks. The incident was caught on video, and according to the numerous posts related to it over the years, it would seem that Portugal has "gotten rid" of Nickelback due to this method. Here's the official synopsis of the events, thanks to the folks at Blabbermouth:
NICKELBACK walked off stage during the second song of their scheduled appearance at Portugal's Ilha do Ermal festival on Monday, August 19th after being continually pelted with rocks and bottles during the early part of their performance, thus preventing the group from safely carrying on with their show.
Did it really happen like that? Let's look at the video tape:
This is back in 2002, when Nickelback was just hitting the big time and Chad Kroeger was aiding Saliva's Josey Scott with the song "Hero" for the Spider-Man soundtrack (I owned it, I'm ashamed). What I'm getting at here is that the band was still relatively new, they hadn't hit the heights of their much deserved hate just yet. This was the kind of venom that forced the band to address it and accept it.
So that stage is set. For some reason, this crowd did not want to see Nickelback play their set. So they pelted the stage. And instead of growing extremely furious, the band just stopped playing. If this were Guns-N-Roses for example, Kroeger might've jumped into the crowd to begin attacking everybody he could get close to. If this were a Kiss concert, he'd probably scold them.
Thankfully, he's a good Canadian boy and decides to ask the crowd a simple question:
"Do you want to see some rock 'n' roll or do you want to go home?"
Someone provides the answer quickly by zeroing him in the back of the head with a bottle or stone. He then bids them good night and the worst we see is Kroger and former drummer Ryan Vikedal giving the crowd the finger. It's perfect Nickelback. Likely using an unknown, foreign hand gesture to tell a group of people that you're upset. He'd have been better off throwing the rock or bottle back or something.
The commenters at Reddit shared a few of their stories, but what are yours? Any tales of a band cutting a show short due to the crowd?
(Via Blabbermouth / Reddit)