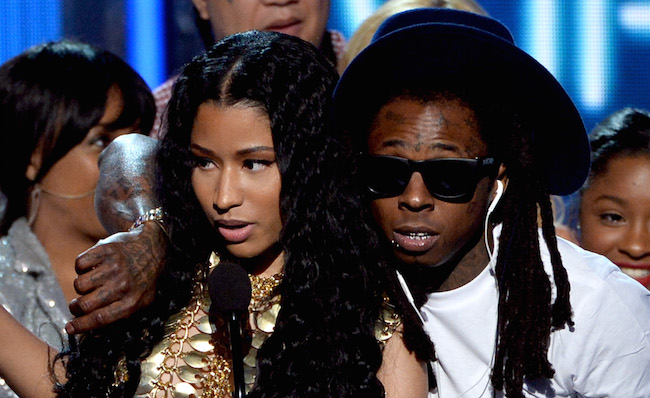 Nicki Lewinsky and President Carter are back together! No, not like that, but musically! Mack Maine told us the team was as strong ever with a couple of big projects on the way his year. The Young Money label president recently said Lil Wayne's Velvet was coming, as is Drake's More Life and Nicki Minaj's solo project. Mack also said Nicki has been putting in work in the studio with a couple of features. And we got all the receipts we could ask for over the weekend when Nicki popped up in on Lil Wayne's interview with NFL GameDay.
"I got my key players. I got my Nicki, I got my Drizzy. So, we're going to be alright," Wayne said before Nicki made an expected cameo on the live broadcast. "Matter of fact, I got my Nicki right here." Yay! The last time these two collaborated was in 2014 for Nicki's "Only" off her Pinkprint album.
As for his own projects, Wayne doesn't bother with the ins and outs. He much prefers delegating all that mess to his team so they can handle business for him. "I don't like to give [my albums] titles, names or anything because we don't know what we're going to drop first because we be too excited," Wayne said about his upcoming plans. "I give my managers a handful of things to do and put out, and then it's up to them to sort out like a playbook. It's up to them to sort out what plays go first and what should we do in the first quarter and what should we do in the second quarter."
It's lit!