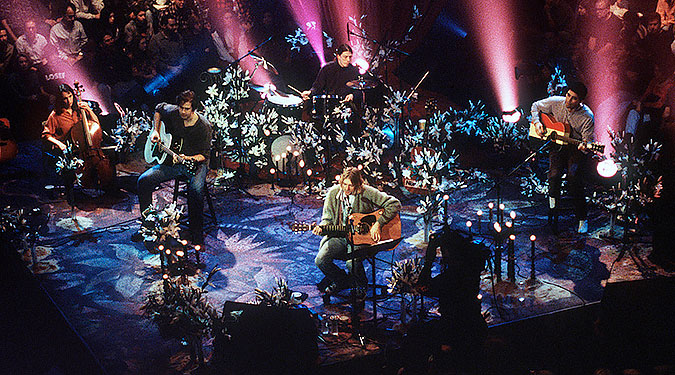 By all accounts, Nirvana's MTV Unplugged in New York shouldn't be as popular as it is. For starters, it's a live album, and unless you're KISS and/or Peter Frampton, a live album never trumps one of your studio albums when it comes to both relevancy and longevity. When we think of Nirvana, we should think of Nevermind, of "Smells Like Teen Spirit," about the initial weirdness followed by willing acceptance of In Utero.
But we don't. At least for the most part.
It's also not a traditional live album in that it sidesteps convention — it sidesteps the band's hits in favor of more obscure songs, a slate of covers that few people had ever heard of and a guest appearance by a band (Meat Puppets) that weren't exactly household names. Of the 14 songs that appear on the album, only one, "Come As You Are," was one of the band's most famous. There's no "Smells Like Teen Spirit," "In Bloom" or even "Heart-Shaped Box." Instead there's "Dumb," "Polly," "Something in the Way" and "All Apologies," in addition to covers like David Bowie's "The Man Who Sold the World," an old traditional in "Where Did You Sleep Last Night?" and a trio of Meat Puppets tunes. Because… Meat Puppets. Why not?
Nirvana's MTV Unplugged in New York has endured, though. It's been the band's most successful release following Kurt Cobain's death, having been certified platinum five times since 1997. It won a Grammy for Best Alternative Music Album in 1996. The album's version of "All Apologies" sits right there with "Smells Like Teen Spirit" as one of the band's most recognizable songs and, hey, we even know who the Meats Puppets are now.
But what else do we know* about the album? And what else do we think about the album?
We…
… know it aired on Dec. 16, 1993.
… think the version of "All Apologies" is amazing.
… know the band was determined to make it feel different than other unplugged performances and recorded their show in one take.
… think a version of "In Bloom" wouldn't have been the worst thing in the world.
… know that Kurt Cobain wasn't exactly "unplugged." His guitar was plugged in to an amp disguised as a monitor wedge. This makes sense when you listen to "The Man Who Sold the World. That sure doesn't sound like an acoustic guitar.
… think we can still picture the blank VHS tape we recorded the show on.
… know that, unfortunately, Jesus don't want me for a sunbeam.
… think that the Meat Puppets songs were really good, and the next time we heard from them was their song "Backwater."
… know that when talking about how the stage was decorated, Cobain's suggestions led producers to ask, "You mean, like a funeral?" To which Cobain responded, "Exactly, like a funeral."
… think that it was incredibly cool to see Nirvana songs boiled down, and that they could be so delicate and beautiful when stripped of their fuzz, distortion and original volume levels.
… know Dave Grohl can rock a turtleneck like a boss.
… think, however, that turtlenecks are not very rock 'n' roll.
… know that producers wanted an encore. We also know that Cobain refused because he felt he couldn't top the rendition of "Where Did You Sleep Last Night?" that closed the set.
In the end, we both think and know that, at the time, Nirvana's MTV Unplugged in New York was an incredibly special album. Watching it was special, but listening to it after its release (and Cobain's death) was heartbreaking. Cobain always had a level of pain in his voice, but that pain was pushed front and center during Unplugged. Both the album and the performance have staying power, and for a couple reasons… excellent material and raw human emotion.
* We know some of this information, thanks to Charles Cross' excellent Heavier Than Heaven: A Biography of Kurt Cobain.