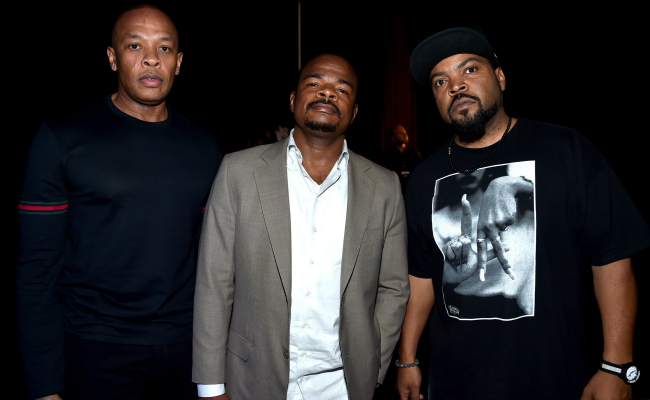 The upcoming N.W.A. biopic Straight Outta Compton has been growing in buzz all year. But before its release on August 14, we may get a taste of the real thing that we haven't seen in more than two decades. For the first time since 1989, all surviving members of N.W.A. including Ice Cube, DJ Yella, MC Ren, and even maybe Dr. Dre will take the stage to perform in concert. In an interview with Rolling Stone, Cube expanded on the upcoming L.A. show at BET Experience on June 27:
The last time I performed with Yella was 1989. That was a long time, but with Ren, it was the Up in Smoke Tour [in 2000]. It was real cool to be onstage with him again, but that's still been 15 years ago. So it's real cool to get up there and with the excitement around Straight Outta Compton, the movie. I think people are going to just be extra excited to get a glimpse of us.
Playing coy on Dre's appearance, Cube wouldn't commit to him showing, but seeing how he's been instrumental to the film being made and they've promoted it together, it would be absurd if he didn't show. But even in the highly unlikely event that he doesn't, other West Coast kings like Snoop Dogg, Kendrick Lamar, and Schoolboy Q will also be on hand. Make sure to keep your fingers crossed for an Eazy-E hologram.
(Via Rolling Stone)