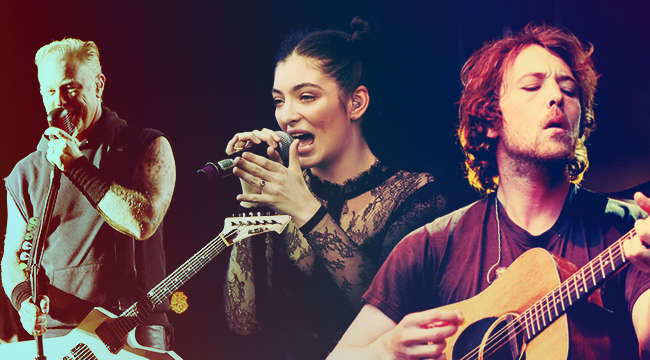 Hitting the five year mark in my tenure as a music journalist means one thing — I've attended my fair share of music festivals. It's not quite hundreds, but sometimes it feels that way. And while I definitely haven't been to every festival, there can be an alarming sameness to the events that makes them run together in my head.
It's gotten to the point that I don't really attend them very often, it honestly stopped feeling like it was worth my time. And there was a sadness in that concession, too, a sadness that was squashed this weekend by the full-blown, joyous hospitality of the Bay Area's celebration of live music. The roadtrip up certainly kicked off the event right, and we arrived in San Francisco early Friday morning ready to jump right in.
https://www.instagram.com/p/BXt0vvlgPYo/?taken-by=uproxxmusic
With a lineup packed by artists selected by their longevity instead of flash-in-the-pan hits — Metallica, The Who, Lorde and Fleet Foxes to name a few — this festival proved to me that it's possible to throw an enormous, successful event that actually strives to put fans and artists at the center of the show. While some fests feel like a grueling gauntlet that requires survivalist tactics, the spacious, well-kept grounds at Outside Lands were organized for maximum impact with minimum exhaustion.
Two of the three main stages are spaced as close together as good acoustics will allow, with two other smaller venues down in another meadow, creating sort of two central hubs for the music, with plenty of other activities, food, and drink interspersed between. This meant that with careful planning, there was no need for constant trudging or rushing around the massive park, an element that makes the fest accessible not just for twenty-somethings, but also for kids and veteran music-lovers.
https://www.instagram.com/p/BXwZ77QANCK/?taken-by=uproxxmusic
This gave the fest much more of a family feel than others I've been to, something that I appreciated immensely — watching Lorde with teens and their dads, and plenty of young women my own age, reminded me that truly great pop music appeals to people of all ages, genders, and emotional states. Especially when 20-year-old Lorde is covering an iconic Paul Simon song from the early '70s with Jack Antonoff, the kind of special collaboration and rare moment that festival-goers are always hoping to catch live.
The other special moment for me personally as a fan was seeing Fleet Foxes live for the first time since 2011. In the ensuing six years, the band has only gotten better, releasing their fantastic new album Crack-Up for a return that felt like it came just in time, and Robin Pecknold led his expansive backing crew in a gorgeous, high-energy early Friday evening performance that set the tone for my entire experience.
https://www.instagram.com/p/BXrrNVfA1ZH/?taken-by=uproxxmusic
But it wasn't just a peaceful Friday evening, or the chance to see two of my all-time favorite musicians in one weekend that made Outside Lands such a special experience. Their commitment to bringing in all the best food and drink their home city has to offer, and keeping everything running on schedule, and making sure that foot traffic moved smoothly over well-cared for grounds, and making sure that bathrooms were accessible at almost every turn, all of these elements made the event feel like it was truly catering to the fan and the crowd, that our needs and desires had been though of and carefully planned for ahead of time. I can honestly say I've never felt that level of hospitality at a festival before — which seems kind of shocking the more I think about it.
I wasn't surprised this was the case, though, given how clearly both Another Planet and Superfly strive to create a positive environment at their festival. Actually, they don't offer that kind of support just to the crowd and to fans, but to the artists too. While A Tribe Called Quest's absence was something I sorely felt, the fest's attempt to rebook the band for a different day of the festival, and then the general calm with which the event treated the news that Tribe wouldn't play felt astonishing. The amount of respect they afforded to both Tribe and Queens Of The Stone Age — two massive headliners who both had to drop out — shows that they really prioritize putting artist's health and emotional well-being over their own event. To me, that speaks volumes about this festival.
https://www.instagram.com/p/BXwCKmHAyqP/?taken-by=uproxxmusic
Of course, the highlights go on and on. The only thing I can compare seeing Metallica live to is the first time I saw Michelangelo's The David in Florence, both monuments left me speechless, and made me want to just sit and soak in their presence for three hours. While they kicked me out of the museum in Italy when I tried this, I got to do just that with Metallica, who seem to possess effortless endurance even with that kind of grueling set scheduled. Gorillaz on Friday night was another huge high point, and one of the most high-energy sets I've ever seen at a festival. Speaking with Damon Albarn before his set about what to expect was also illuminating — more on that soon.
https://www.instagram.com/p/BXtqATshOQE/?taken-by=uproxxlife
On a beverage and food note, the wine event curated by the Bay's own Peter Eastlake, the director of the fest's own wine experience Wine Lands, in conjunction with Chase Sapphire's presence onsite was a more comprehensive tasting of San Francisco wines than I'll probably ever experience again.
It was the perfect precursor to watching Solange own the stage on the last night of the festival, spreading her healing vibes over a crowd shell-shocked by violence in Charlottesville, and unsure of how to proceed. Her set was a balm, and a beam of light, a reminder of all that can be righteous and beautiful in America if we work toward giving platforms to and supporting those who have so much to say and so much wisdom to give.
https://www.instagram.com/p/BXwsXq6APh8/?taken-by=uproxxmusic
Since we roadtripped up from Los Angeles in an extremely comfortable Chevy Equinox, the drive back on Monday should've been daunting and exhausting after three days of trying to soak in the fest. But thanks to the car's miraculous in-car wi-fi, and a couple holdover chocolate treats from Chocolands, we were able to decompress and unwind on the way back, start getting back into the swing of the work week and continue sharing the fellowship that a fest of this caliber always fosters between its attendees.
https://www.instagram.com/p/BXp81suA1Fv/?taken-by=uproxxmusic
Usually when I'm leaving a festival, I feel a sense of relief that it's over, but in this case, I found myself wishing for just one more day in the small, magical world that this festival creates. Luckily for me, at ten years strong, I'll definitely get the chance to come back to Outside Lands. And for once, I actually want to.