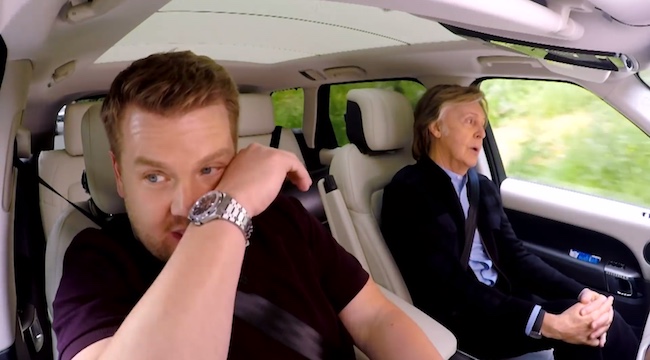 It's kind of hard to imagine James Corden ever topping his recent Carpool Karaoke session with Sir Paul McCartney. The sheer outpouring of joy and affection that the taping elicited among fans of the one-time Beatle was extraordinary. The moments in the original 23-minute segment like Corden tearing up while singing "Let It Be," to Paul visiting his childhood home in Liverpool, to the surprise performance in a random pub at the end were off the chart heartwarming.
Knowing what they have, CBS has announced today that later this month, on August 20, they are going to air an hour-long cut of the appearance for a special titled Carpool Karaoke: When Corden Met McCartney Live From Liverpool. "We were overwhelmed by the response to our Carpool Karaoke with Paul McCartney," the Late Late Show executive producer Ben Winston said in a statement. "We loved making it and knew we had something special, but it was so wonderful for us to see how many people watched and enjoyed it. After the shoot, while we sat in the edit, we had to cut so much we loved for time. Not only did Paul do a concert in that Liverpool pub, but James and he discussed so much in the car…Now everyone can see the joy of that concert and more of their chat."
In the meantime, you can revisit the original version of Corden and McCartney's ride around Liverpool in the video below.