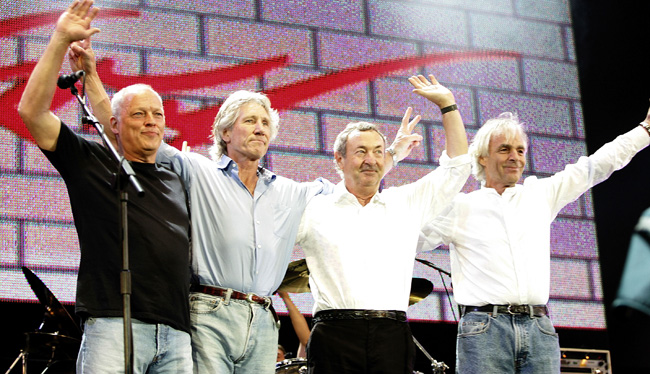 It really shouldn't be a surprise, but Pink Floyd is officially kaput. They've ceased to be, they've kicked the musical bucket, bit the dust, they are no more. And it's official, at least according to Dave Gilmour. The band lasted in some form for 50 years, with Gilmour making it 48 of those years, and released their final album, The Endless River, in November 2014.
Gilmour confirmed the breakup in Classic Rock magazine — though it feels weird saying that considering the band is 50 years old — and talked a bit about the experiences and why another reunion just wouldn't work out:
"I'm done with it. I've had 48 years in Pink Floyd – quite a few of those years at the beginning, with Roger (Waters)," he said in a cover story interview with Classic Rock magazine. "And those years in what is now considered to be our heyday were 95 percent musically fulfilling and joyous and full of fun and laughter. And I certainly don't want to let the other five percent color my view of what was a long and fantastic time together. But it has run its course, we are done – and it would be fakery to go back and do it again."
Gilmour adds that playing without late keyboardist Rick Wright would be wrong, something which makes plenty of sense considering the feelings of closure that preceded the release of The Endless River. The guitarist also has no interest in going on some massive stadium goodbye tour, so don't expect the band to suddenly pull a KISS and go on a never-ending retirement tour:
"Obviously I accept there are people who want to go and see and hear this legend that was Pink Floyd, but I'm afraid that's not my responsibility."
Gilmour has a new album coming out in September and former member Roger Waters is also planning a new album and tour according to Consequence of Sound. If anything, the band will live on through the music that defines them (which is the same old bull you hear every time a band is inducted or eulogized, but it's still true). Pink Floyd made some interesting music and inhabited a unique space within classic rock.
(Via EW / Classic Rock / Consequence of Sound)