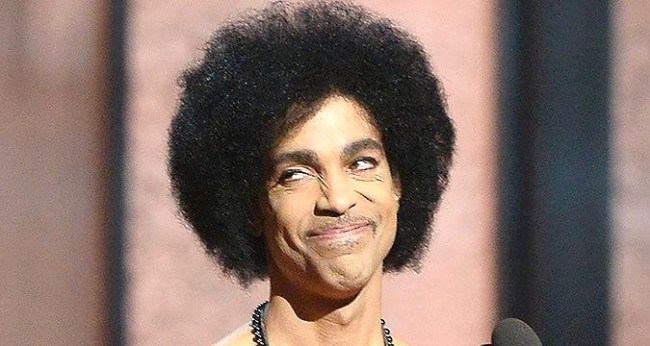 Breaking: Iconic Rock God Prince Dead At 57
The red alert that went out on Friday over Prince's health can be shut down, at least for now. After a health scare from Friday that involved an emergency landing (in what I would only hope is a purple jet with a grand piano aboard) that saw Prince rushed to an Illinois hospital, everything seems to be okay. From his weekend activity alone it appears that the artist formerly known as an unpronounceable symbol and is doing alright. In fact, he's just as funky as ever.
A sigh of relief comes from all of us as TMZ posted an update on Sunday afternoon that Prince showed up to a dance party on Saturday night. Prince appeared at a $10 shindig at Paisley Park that he was advertising on Twitter earlier in the day, much to the delight of everyone in attendance.
He even posted a photo from the party, which (according to reports) he showed up to at around midnight with a brand new guitar and piano, although he didn't actually perform. So it really does look like he just had the flu and that maybe his people were just a little overprotective of him with the whole emergency landing and rushed-to-the-hospital bit. Then again, 2016 has already claimed the life of David Bowie and you can never be too careful.

Fans were also abuzz this weekend by reporting that His Royal Badness was out and about in Minnesota on a bike. Yes, people were reporting sightings of Prince riding a bike, although it seems kind of difficult to confirm this. I'm also not sure that you can wear high heels on a bike. I mean, can you? If anyone could figure it out, sure, it could be him, but seriously? This is a guy that needs hip surgery because of his heels and opted to strut around with a cane instead of get a blood transfusion. I somehow don't see him riding a purple bike around town.
(Via TMZ / Consequence of Sound)