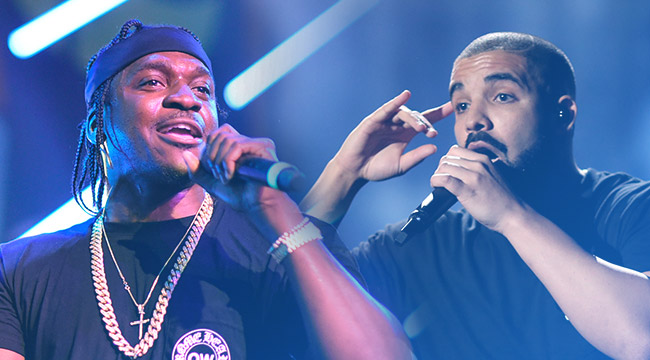 For most, Drake was very clear about his target last year when he unfurled a few pointed bars at an unnamed rapper he'd clearly grown tired of. "But really it's you with all the drug dealer stories that's gotta stop though," he rapped on the subdued track "Two Birds One Stone." He wasn't done there though, adding "You made a couple chops and now you think you Chapo." For just about everybody who listened, it was assumed the scathing bars were meant for one of the 6 God's oldest foes: Pusha T.
Except for Push.
It's been exactly one year since Drake dropped "Two Birds" like a thief in the night on his OVO Sound radio show, and in that entire year Push hasn't responded on record. Not even once. In fact, the only time he addressed the song at all, he told Complex the song couldn't possibly be about him and that he was "not speaking to (Drake) at all" and "It ain't real if it's about me."
Never mind that Drake essentially confirmed that he'd taken aim at Push a day later, the GOOD Music CEO had simply decided it wasn't and that was that. It was disappointing, to say the least, because everybody was waiting for the heavyweight clash to truly test Drake's mettle, and it seemed like Pusha was the perfect opponent to do just that. Then, somehow, it was all over before it ever really even started.
His reaction was odd, to say the least. The court of public opinion had decided Drake dissed him, and now it was presented to him and he still chose to ignore it, even after years of working hard to goad Drake into this exact fight. Push had been poking and prodding Drake's boss Lil Wayne for a decade, and for years Drake had become collateral damage.
In this situation, Push has seemingly become the bully that got pushed back and didn't know how to respond. When Drake's "5 AM In Toronto" bars were too vague to be undeniably about Pusha, no response was fine. But now that he'd been confronted with a record that is — at least in the public's eye — undeniably about him, Push balked.
That's not to say that he's has been silent in the past year, he's been quite busy in fact. Apparently he recorded, scrapped and re-recorded his long-awaited album King Push at least three times with the help of Kanye West. He's made a few stellar guest appearances, and generally maintained his presence in the industry and online. He's been around plenty, just not responding to Drake.
In rap's two most infamous beefs, responses didn't exactly come quickly. "Hit Em Up" from Tupac came almost two years after "Who Shot Ya?" from Biggie, but jail was to blame there. Nas' "Ether" came over four months after Jay-Z first unleashed "Takeover" at Summer Jam, and even in an era of elongated promo cycles, Jay responded to that in less than a week with "Super Ugly."
But now? In this era of instant gratification and dwindling attention spans? A response was expected from Pusha almost immediately, and the idea of no response was almost unfathomable. We live in the era of people dropping responses to Kendrick Lamar's "Control" verse within a day, and Drake won a battle against Meek Mill mostly because Meek took far too long to respond, to the point that Drake responded twice before Meek did once. That became the lasting impression of Meek's entire ordeal.
The simplest explanation for Pusha not responding is probably because he simply didn't want to. Based off his past, he probably never wanted to dedicate a whole song to any rapper, let alone Drake, and is more than happy to just sprinkle a few not-so-subtle subliminal disses into tracks as he sees fit. The only rapper of note he's actually admitted to dissing is Birdman on "New God Flow" and Birdman is hardly a rapper and was never named on the track. In fact, Pusha only admitted to that diss nearly four years later, on Genius.
But this was Push's chance, to truly prove he is the antithesis of Drake like he essentially said he was in the lead up to his album Darkness Before Dawn back in 2015. Instead, he chose to remain silent, deflecting the diss and never looking back. He's been reluctant to engage in all-out war in the past, offering scant bars and denying them later. Even when he released "Exodus 23:1," and the whole world just knew it was about Lil Wayne, he denied it within weeks. Through both his words and his actions Pusha has made it clear he doesn't like the Cash Money trio very much, but he's also not interested in an all-out beef with them either.
If Pusha T is truly "rap's last great superhero" like he said he was, this was his "Superman-gets-stabbed-with-a-Kryptonite-spear" moment, where even those who view him as an immortal and indestructible deity are slapped in the face with the harsh reality that he's a mere mortal on a pedestal with a snazzy outfit. Maybe he has a knockout punch waiting on his album, and that becomes his "Superman-saves-the-Justice-League" moment that we all know is coming in the new movie next month, but still, we all saw him die and we now know it's possible.
Pusha had his chance to end the reign of the 6 God and he never took it, and now, a year later it looks like he never will.